GetEquity provides you with an opportunity to invest in startups, giving you a chance for a high return during an exit.
Savings and Investing are two major decisions that are difficult to take control of. The investment space usually requires lots of discipline and determination to be able to achieve your objectives, even though the benefits are worth it at the end of the day.

GetEquity is a private security marketplace where you can invest in different startups and also trade digital assets and securities in a safe secured environment.

This environment allows companies to convert their assets into digital forms via tokens and create liquidity for them by linking them together with investors who can invest in these assets.
GetEquity products include Founders, Syndicates, and Community deal rooms where investors are connected with other investors to achieve common goals and objectives.
FOUNDERS EQUITY
This is the ownership that is held by the owner of the Startup company or the team that started the company.
SYNDICATES
A Syndicate deal room allows you to create a great syndicate room with mission-inclined investors who share the same goals with you. It enables you to share investment opportunities with other like-minded investors.
The Syndicate darkroom is characterized by the following :
An Administrative control includes managing members where you can add or remove members, making instant reports by doing analyses on user behaviour, and maintaining control in the general system behaviour while promoting good case practices.

Operations that allow members to transfer from anywhere, Add interest, membership fees, access levels, and rules of the syndicate.

Leverage Coverage: where you can register SPVs when necessary in Nigeria and the US, the Legal coverage also includes Legal back office operations.
Extra values that come with your syndicate deal room include; a dashboard to track and monitor your progress, multiple deals in a particular room, rooms for future investment purposes and to receive highly qualified deal flows. The syndicate deal rooms allow up to 20 members in a room and up to 15 assets. However, you can contact the support team for a custom plan.
You can also register as a Community. This allows you:
Have all your registered community members in one single place
Ensures privacy by making sure nobody gets access to the group unless allowed in with the invite-only link
You and other members of your community have shared interests and raise the community towards your shared vision
Offers rewards to your backings.
PROS
GetEquity provides funds for your startup enterprises and companies smoothly.
You and other members of the GetEquity community can work together towards your shared vision
and interest.
Get Equity makes blockchain-based equity a reality.
GetEquity connects Startup founders with investors who can buy and sell assets via tokens.
GetEquity is safe and secure as it uses high-level security as well as a KYC process to verify your identity and prevent cyber attacks and frauds.
CONS
If the company invested in does not yield returns, the investors cannot recover their initial capital. This is why it is advisable to invest an amount that you can afford to lose
It takes a long period of time to get your withdrawals into your linked account as your requests need to be matched to an order to buy.
The risks herein are heavy because they invest in startup enterprises which are prone to not yielding
returns at that early stage.
You either win big or you lose completely. There is no in-between in GetEquity.
The fees charged on the deal room utilization are much.
HOW TO START INVESTING ON GETEQUITY
GetEquity is easy to get. All you have to do is go to your Google Playstore or download it on AppStore for Android and Apple devices respectively.
Install the application on your device, verify your active mail address, upload a selfie (optional), upload a government-issued ID, your proof of address, and link your bank. After which, you fill out the necessary required information and start your investment journey.
GetEquity makes blockchain investment a realistic journey in Africa.
GetEquity is a private digital market platform where investors can buy and sell securities securely and privately.
GetEquity enables companies to digitalize their assets via tokens.
The time it takes to start earning returns from your investment is to a large extent dependent on the type of investment contract you purchase on GetEquity.
GetEquity can fund all tech-enabled and technology companies/businesses in every sector that run the economy.
GetEquity is for all types of investors, institutional or retail, right from new investors to experts.
Though it is risk-intensive as the startup to invest your funds in could either fail or succeed. Because the return when the startup succeeds through an exit (bought by a bigger company, external financing or got listed on a stock exchange) could be high,  it is a good option to diversify your investment portfolio but only invest funds you can afford to lose.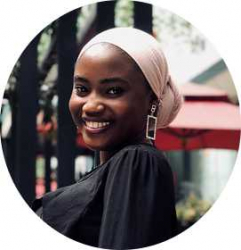 Latest posts by Halimah Idris
(see all)
You are the first in our research hence, we rallies around doing rigorous checks, testing and analysis to help you make a good decision on products and services. Meanwhile, items providers' final views are superior to ours.