Quickteller loan employs an aggregation model to match you with several providers so you can choose which to borrow money from by comparing their interest rates.

In addition to helping you curb unnecessary fees, an array of providers open a better possibility of eventually getting a loan if rejected by one of the aggregated Quickteller loan providers.
We all know how the feeling is when you are running out of balance on your bank account.
You try to split your cash into parts to meet budget but down the line, the money kept going down slowly to a point you realize splitting will not help.
Psychologically, you will be draining trying to get a fix for your emptying pockets.
Picking your mobile phone to call a friend looks like a false solution but you still try a bit of luck by sending an SMS hoping someone will reply "send your account number".
You will feel sorrier once the reply looks like the lines below:
"egbon, I just see ur SMS ooo. Hw we go do na? I been give my mum some cash last week and I don't have much at my end again ooo… U go fit call Chike first?"
You will bite your tongue in anger, feeling to sell maybe your mobile device to survive until the next salary payment arrives.
Well, beat your chest and smile. That is why Quickteller loan exists to help get something in your pocket and save you the pain of selling your belongings.
The money might not be much but an ability to get up to N100, 000 cash means you can survive for so many days if you are lucky to be given that much.
What is Quickteller Loan?
If you are a newbie to the world of a payday loan, this could be strange.
Quickteller loan is a quick cash help service powered by InterSwitch where you can access funds from a low N1,000 to as much as N100,000 depending on your transaction strength.
This loan takes a few minutes to be approved and disbursed to your provided bank account number.
But before you can access this Quickteller loan, you need to have a couple of things in place. Which include:
Registered Account

Transactions
Registration
This is a primary and you don't need anyone telling you that, right?
A registered account is required for you to be able to access the Quickteller loan.
Signing up takes few minutes using the steps below:
Visit Quickeller by clicking the link below
Click the sign-up button to proceed

You will then need to provide your first and last name (preferably as it appears on your BVN)

Add your valid email address (make sure this is existing as you will verify later)

Enter your valid mobile phone number where you can receive a one-time password (OTP)

Enter a secure password (not less than six characters)

Once you have filled the required fields, click the continue button where you will be required to validate your email and phone number
If you were able to successfully do the required above, your dashboard will look like the below:
On Desktop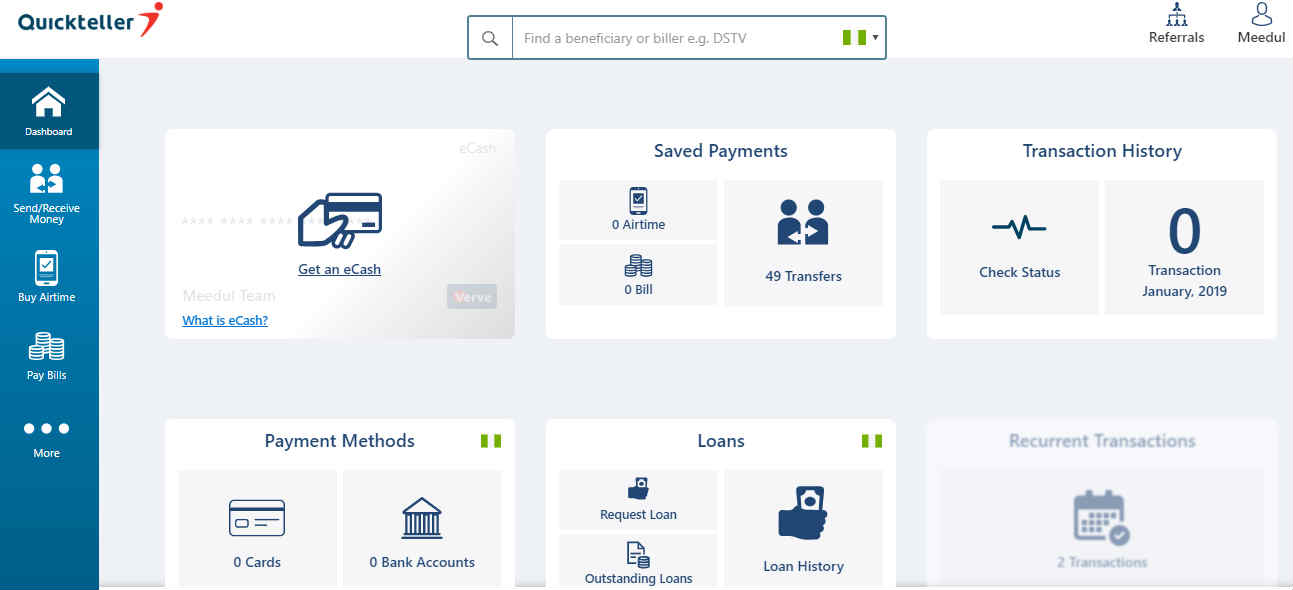 On Mobile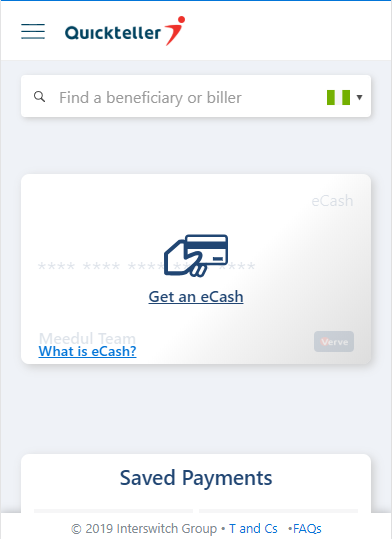 If your dashboard looks like the above, then you can proceed to apply for a Quickteller loan.
How to Apply for a Quickteller Loan
In order to apply for a Quickteller loan, kindly use the process below:
Make sure to add a debit card to your account. This you can do by activating the eWallet account

Click on Request Loan which is located after Payment Methods

Then, you will need to specify the amount you want to borrow using the request form which looks like the below: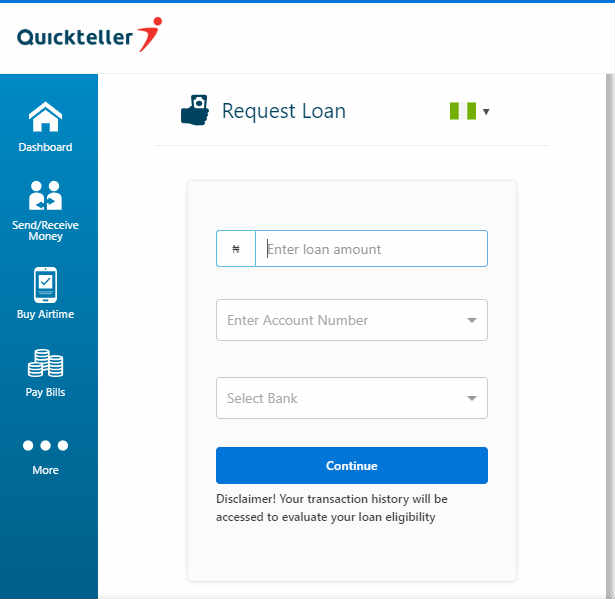 Once you have entered an amount, you will then supply your account number and bank name to proceed

Once you have done the above steps, click the continue button

You will then see a list of the loan of providers with the maximum amount you can request based on your activities on Quickteller

Select any of the providers that you considered fine based on the repayment interest rate

Once you have selected and submitted the request, your request will undergo approval within five minutes and feedback will be provided
That is the process to request a Quickteller loan using the web interface.
But if you do not have access to the internet, there is an option.
Requesting Using Quickteller Loan USSD Code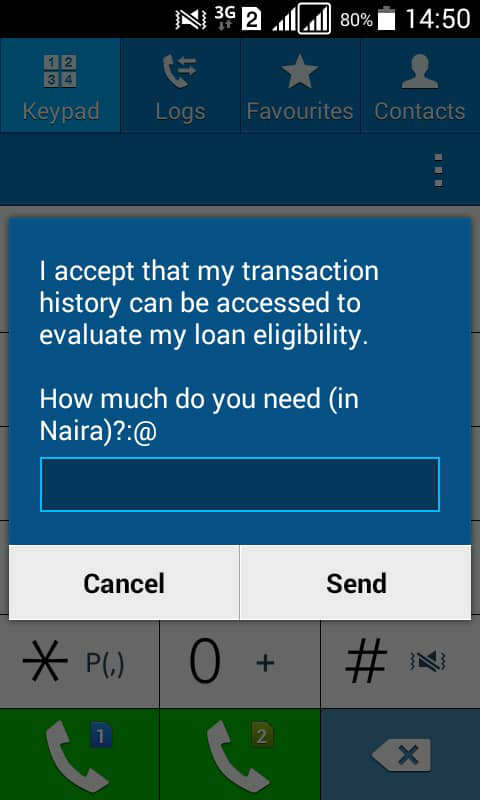 To access Quickteller loan using USSD, kindly follow the processes below:
From your registered mobile number, dial *322*6#

You will have to select the option that applies to 'Get a Loan'

Once you have done that, specify the amount you want to borrow

You will then have to specify the account where you want your loan to be credited

The next phase will access your history and give you a list of loan providers with the repayment plans

Select any that meet your needs and click next to process your request

Once it has been approved, you will receive a notification with transaction details regarding your Quickteller loan request
We understand how bored to have a dry pocket means and we hope this guide helps you get some money through Quickteller loan.
If this doesn't meet up with what you really need, feel free to explore other loan providers.
If this post has helped put a smile on your face, do not forget to share to help someone else.
There is a friend who is waiting on your timeline for this guide and you will share the smile by just using any of our social media buttons below.
Do you have any question regarding this? Feel free to drop your feedback using the comment box below.
We love getting feedback.
You are the first in our research hence, we rallies around doing rigorous checks, testing and analysis to help you make a good decision on products and services. Meanwhile, items providers' final views are superior to ours.