I ain't another John Bull! I am actually 18 years and even older. Oh yeah, I know this is risky and only part away with money I can afford to lose wisely.
No, I am less than 18 years
It takes a genius to predict accurately how to win virtual football league bets.
But these outstanding experts tips and tricks will help you hit a landmark intelligently.
No doubt, it will be a fun and rewarding adventure if you unlock the tricks.
This game, despite being entertaining, can finish your staking balance in a season if you don't apply intelligence.
If you're a newbie to this game, a season is about two hours.
This Beginners Guide to Virtual Football League will get you started intelligently.
If played well, your chances of earning are higher compared to normal betting. But, none is safe.
Taking a view into the following analysis to determine your potential winnings in a virtual soccer league betting to normal season bets:
| | | |
| --- | --- | --- |
| Mode | Virtual | Normal |
| Games | 2,880/Day | 10/Week |
| Games per Month | 86,400 | 40 |
| Game Days/Season | 30 | 38 |
| Season(s) | 12/ DAY | 1/year |
| Potential Winning of ₦500 stake for odd 2.5 per Week | ₦450,000/Day | ₦49, 875/Year |
This statistic doesn't include additional cup competitions as for the normal soccer league.
Balancing the analysis: virtual football league betting uses a style similar to normal league hence, other cup games are excluded.
You see how huge the potential profit is if you dedicate a whole day playing this game.
But 'body no be firewood' and you need to rest for the next day or jump on something else for fun.
That said, you can actually earn as much as N50, 000/Day depending on your odd selection, staked amount and intelligence.
Like mentioned earlier, there's no known 100% perfectness to winning a virtual soccer league bet.
What you need is a bit of intelligence using tricks and tips used by experts to win virtual football league bets.
The Expert Tips and Tricks to Win Virtual Football League Bets
For some time, people have applied intelligence that has made them some profits betting on virtual soccer league games.
But then, these tricks to winning are most times unique to individual playing punter.
What if you have a first-hand contact to these expert tricks and tips used to win virtual football league bets?
Fortunately, you do not have to bother. Below, the tricks and tips will be unravelled.
These tips will help you stake wisely for a profitable adventure.
Because you might be interested in a particular tip on how to win virtual football league bets, we have provided this togglable link below for you to scroll to any of interest. Feel free to use.
Use Full Analytic View Virtual Football League Provider
This is a very important requirement if you want to make it big betting to win virtual soccer leagues.
Most sports betting providers offers virtual games but not all have a full-fledged tool to enable you forecast at best.
In this, BetWay will be used. It has the features for best forecasting and more options for less risky bets.
Taking a look at the view on BetWay virtual football league page: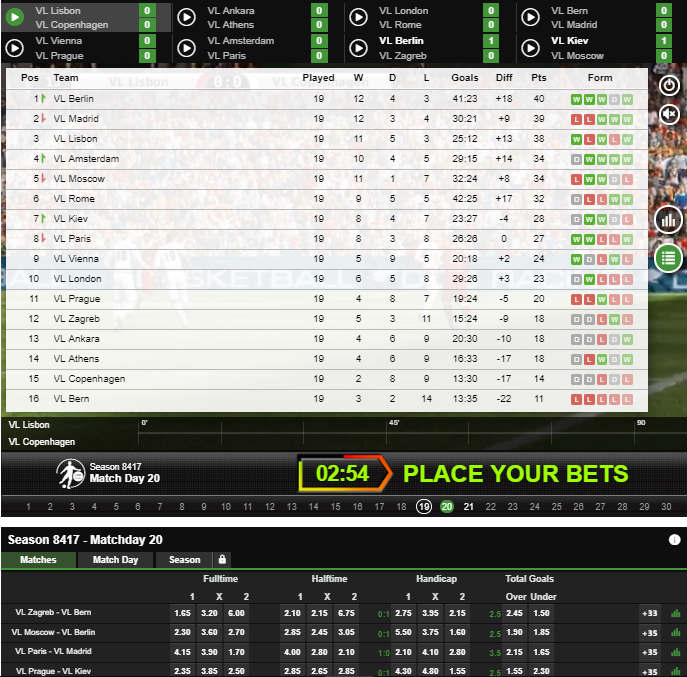 From the view, you can clearly see the teams standing and their recent form to the right.
This is needed to tell the outcome of a next game depending on the opponent your chosen team plays next.
There is another great tool you will be using for this, check this picture below: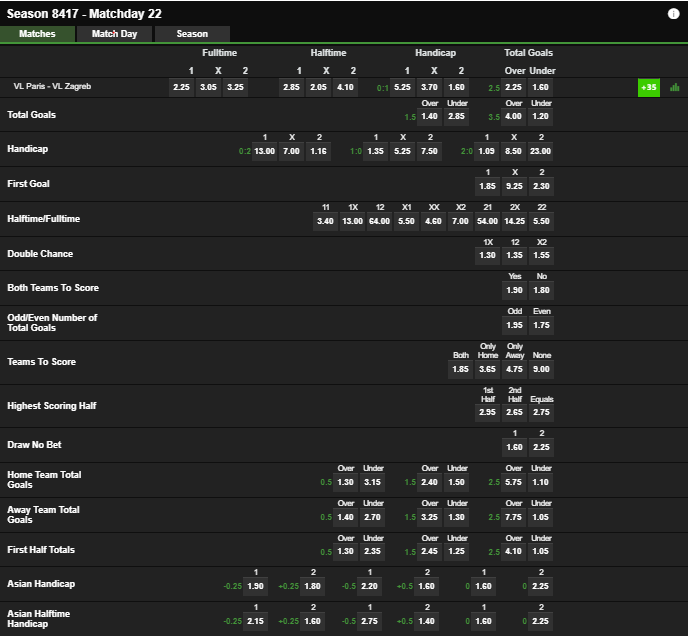 If you are an avid soccer league betting fan, these features look familiar.
The part interesting you see is 'Double Chance' which makes it less risky betting on a well-performing team.
If you understand very well, the set-up looks exactly like the normal soccer league you bet on.
Apparently, BetWay will do you better playing to win virtual football league bets with its huge features.
This tactic tests your endurance ability to review previous matches.
Usually, it is employed at the beginning of a new virtual soccer league season.
However, it does not apply only to the beginning but each time you noticed a trend change.
It is tempting to bet on a team that performed great the previous season to continue same.
Unfortunately, this game doesn't work the same as the normal football.
In order to win virtual football league bets, study a new league season to understand the trend.
Ideally, you should endure for the first five weeks or ten.
This way, you can easily determine the current season forms of the team based on table standing.
If you employ this strategy, you can tell if a team can win you a bet or not.
Investment Capital Split Until Double Even Stake Profit
Unlike the normal soccer, the strategy for virtual soccer league differs as it takes few seconds to complete a game.
Staying safe, divide your staking balance into parts.
An instance is: if you have ₦1,000, you can divide it into five. This will give you ₦200 each per stake.
The rule here is that you must not bet more than your split capital until you hit an even profit.
What is an even stake profit?
A profit equivalent to your split staking amount is called your even stake profit.
That is taking the example of ₦200 staking amount above, you have earned extra ₦200.
That means that your total wallet balance will then be N1,200 after hitting an even stake profit.
You will continue to bet using your stake amount until you hit another even stake profit.
After hitting double even stake profit, you can then risk betting higher than your stake amount.
In order to avoid losing all profits, consider adding 25% of your even profit to your staking amount.
Meaning if your staking amount is ₦200, it will go up to ₦300 leaving extra ₦100 in your profit balance.
The fall and rise tackle losses as betting is a chance game, either you win or you lose.
If you want to hit big staking to win virtual football league bets, this strategy is very important.
It is also called the fallback strategy to winning virtual soccer league bets.
In fact, this method tests your ability to applying patience when you lost a bet.
How this works is similar to the splitting of capital above but only used when you lost a bet.
If you stake ₦200 and you lost, your next game should be half of your previous lost game stake.
That means ₦100 will go in for your next staking.
You should be targeting an odd that has 90% potential of coming true, like the under 4.5 below.
The return will not be much but the idea is for you to recover your lost money before staking higher.
This strategy on how to win virtual football league bets is the same as the normal soccer league season.
If you bet a game under 4.5 goals, that game must end 4 goals or less for you to win.
If you see two teams in the top 5 facing each other with this odd, go for it.
The secret about this to winning virtual soccer league bets is that it hardly fails irrespective of teams.
For an even better clue, use the head to head strategy below to forecast.
Head to Head to Current Form
This virtual football league winning trick combines head to head record with the current form to tell the outcome.
Head to head simply implies records of previous meetings between two teams facing each other.
While the current form tells you how each of the teams has fared in their recent five individual matches.
Look at this BetWay current form forecast with their head to head record for VL Madrid and VL Berlin.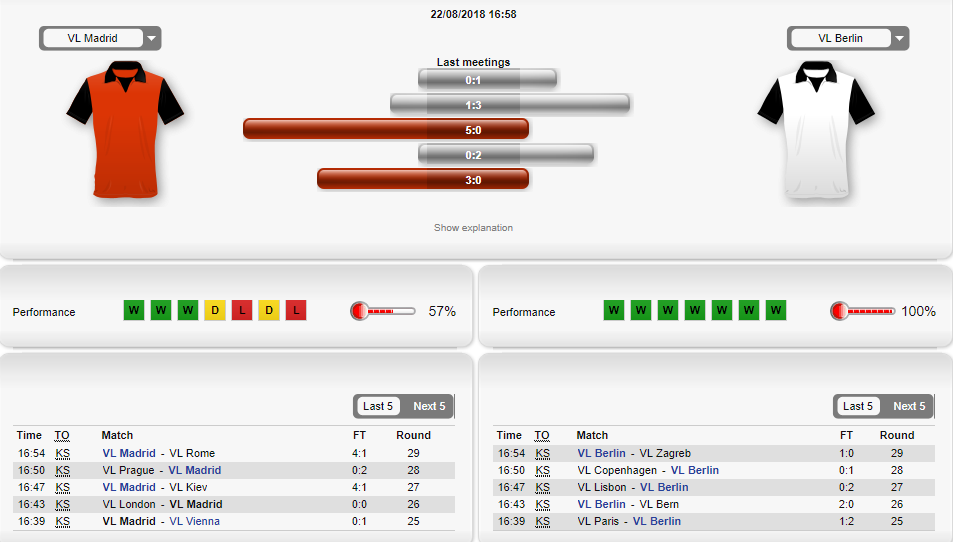 VL Berlin has the upper record with three wins and two losses with the last two in its favour.
And the current form shows that VL Berlin has been on a hot winning streak compared to VL Madrid.
Betting on this game, it is fine to say VL Berlin will win based on the record.
But to be on a safer side, you should apply the double chance technique below for VL Berlin.
If you have been into betting before now, you probably have heard the 'win or draw' term.
Using this technique to win virtual football league bets involve staking on a team not to lose.
This is another good tip to winning virtual soccer league bets with less risk.
You should bear in mind always to analyse very well a team you want to use this trick for.
You might be wondering why you haven't seen an option for a straight win.
We are bet aware and you should too. As a result, we advise you bet intelligently.
Predicting to win virtual football league bets is not as realistic as a normal season bet.
It is easier to predict a Chelsea win against Westham in a normal English Football League faceoff.
But you need to think twice about winning virtual soccer league bets using a straight win technique.
The best bet will be applying the split betting strategy.
Some booking sites call it multi bet or accumulator where you can bet on two matches independently.
If you have an assurance about a team winning, combine it with another odd with a potential of 90% true outcome.
An example is, VL Berlin, the league leader playing at home against VL Edinburgh that sits at the bottom.
VL Berlin should win this kind of matches. But what if it lost?
The best thing you should do is add another game with a better chance.
You can consider adding a double chance or an under 4.5 odd if available.
But you will bet on them separately using the multi-bet feature.
An instance is if your staking amount is ₦200, each of the game will take ₦100 each.
If you lost one and won one, you don't lose all your staking amount.
And if you are lucky to win both, congrats.
You are not going to spend the whole 24hours trying to hit a huge landmark.
Betting is risky and you should consider taking a break after earning some good profits.
In addition to other tips, experts usually forecast expected potential earnings for a month.
To determine a daily target, they divide their expected monthly earnings by the number of days in that month.
In order to be on a safe side, do not target more than a ₦100, 000 monthly.
And if you do your arithmetic for a ₦50, 000 target monthly, you will be looking at about ₦1,700 per day.
Once you hit your daily target which you can earn in an hour, quit for another day.
But then, scams involved with Virtual Football League Bets
When you search or ask, people promise the availability of non-existing ways to win virtual football league bets.
And falling for these, you will start losing before you start betting.
Well, what are those scams you will most likely come across?
Virtual Football League Prediction Software
Technically, there is no way to plug-in a software in a virtual football league.
Sports betting is 100% a chance game and no software can determine the outcome.
If there is any software for predicting virtual football league results, you are then the software.
The game totally depends on your ability to analyse and guess the outcome of matches.
Virtual Soccer League Pre-Booking Number
Despite sharing similarities with normal soccer leagues, some differences exist.
One such difference is the inability to generate a booking number before staking.
This game uses a prepaid model, meaning that you must pay before a booking number is generated.
If someone promises to have booking numbers to win virtual football league bets, he is hungry.
Ultimately, you will be as good as paying a deaf attention to such claims.
Hacked Secret to Win Millions Monthly
Some numbers are actually easy to pronounce than to achieve.
One of such is hitting a million easily on monthly basis.
Depending on your staking amount, you can hit such landmark but the hacked secret lies with you.
People asked for payments to reveal a system for earning a monthly allowance through VFL.
It is fine if you have some money to give to charity listening to such.
As to this extent, there is no real system for winning soccer league bets that is 100% perfect.
Never Lost a Virtual Football League Bet eBook
Do you need an eBook on how to win virtual football league bets?
If yes, best will be printing a copy of this guide as pdf and reading it at your leisure time.
You might come across sites and forums of people advertising books for sale on winning VFL.
Unfortunately, those tricks mentioned in them are also copied from somewhere.
People are looking for ways to make some money, you might fall a victim to such.
If they know the secrets to win virtual soccer league bets, surely they won't be selling the eBooks.
Membership Subscription for VFL Winning
The punters' population increases as testimonies of winners convince people to try.
Obviously, beginning punters usually fall victim to this kind of scam.
Some communities and websites exist claiming to have 100% perfect tricks to hitting big in VFL.
You most times will be required to pay a subscription fee to access their services.
Any person, community or website that claims to have this, additionally should provide a trial.
But because some punters are desperate, they want to jump on that deficiency.
Although some shows testimonies to lure you in, are those verifiable?
Be cautious and bet with your analytic skills on BetWay or a platform that offers rich features.
It is safer than paying for what you'll gain nothing.
This is it for this safe guide to hitting a personal milestone staking to win virtual football league bets.
Hope you win applying these tactics intelligently.
Also, we will appreciate your feedback using the comment section below.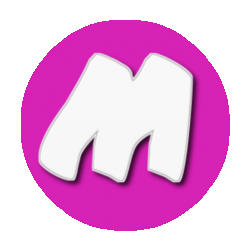 Latest posts by Happiness Crew
(see all)
You are the first in our research hence, we rallies around doing rigorous checks, testing and analysis to help you make a good decision on products and services. Meanwhile, items providers' final views are superior to ours.