Adidas shoes are renowned for their comfort and are a top pick for individuals seeking premium sneakers, slides, and sportswear.
The footwear we select not only serves as a mode of transportation but also plays a pivotal role in shaping our personal fashion preferences.

Adidas just like Nike, is a brand recognized for its commitment to style and performance, and offers a diverse range of options, from enduring classic boots that exude timeless elegance to state-of-the-art sneakers designed to optimize athletic excellence.

Tip: Adidas shoe prices in Nigeria range from ₦12,950 to ₦87,000, with the cost varying based on factors such as the shoe type, model, size, and style.

Adidas maintains an official online store in Nigeria, accessible through platforms like Jumia. This store offers a wide selection of Adidas footwear, including items such as sneakers, slides, and sandals.

These products are available for shipping to most states within the country. However, for the latest models, you might find better availability through international platforms like Amazon, particularly if your payment card supports international transactions.
Adidas, a global sportswear giant, is renowned for its pioneering footwear designs. With a history spanning decades, Adidas consistently pushes the boundaries of style and performance.
From iconic classics like the Superstar and Stan Smith to the sleek and lightweight innovations of the Ultraboost and Boost series, Adidas caters to a wide array of tastes and athletic requirements.
Their unwavering dedication to innovation and technology results in footwear that delivers enhanced comfort, support, and performance.
Adidas also places a strong emphasis on sustainability, incorporating eco-friendly materials into their designs. Whether you're on the track, on the court, or simply stepping out in style, Adidas shoes offer a harmonious blend of fashion and function, perfectly tailored to meet your needs.
Best Adidas Sneakers and Slides in Nigeria
For those seeking to make a wise investment in premium footwear, Adidas is a brand that definitely deserves your consideration.
According to customer feedback and reviews, here is a selection of the finest Adidas sneakers and slides available in Nigeria: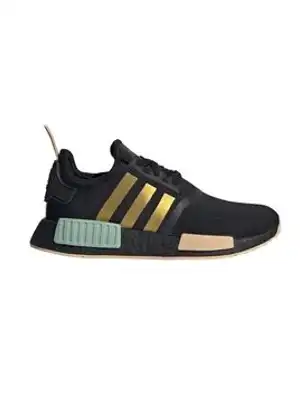 The Adidas NMD_R1 is a popular sneaker known for its fusion of style and comfort.
Part of the NMD (Nomad) collection, these shoes combine modern aesthetics with Adidas' cutting-edge technology, making them a go-to choice for those who value both fashion and performance.
The NMD_R1 features a sock-like Primeknit upper, which provides a snug and flexible fit while allowing breathability. Its signature Boost midsole offers exceptional cushioning and responsiveness, ensuring a comfortable stride.
Adidas has crafted this shoe with a distinctive urban style, characterized by its iconic midsole plugs and bold color options, allowing wearers to make a fashion statement. These sneakers are equally suitable for everyday wear and athletic activities.
The Adidas NMD_R1 exemplifies Adidas' commitment to creating versatile and stylish footwear, making it a favorite among its enthusiasts who want to stay on-trend while enjoying the benefits of premium sneaker technology.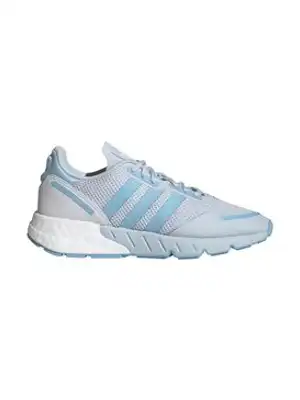 The Adidas ZX 1K Boost is a versatile sneaker that artfully combines elements of classic design with modern comfort and technology.
Adidas ZX 1K Boost features a multi-textured upper with a combination of materials like mesh and suede. This design not only enhances breathability but also provides a snug and comfortable fit.
The shoe is equipped with Adidas' Boost midsole technology, offering excellent cushioning and responsiveness, making it an excellent choice for both daily wear and light athletic activities.
A key feature of the ZX 1K Boost is the Torsion bar, which adds stability and support to the shoe, ensuring a secure and balanced feel. These sneakers often come in a variety of colorways, catering to different style preferences.
With its blend of retro aesthetics and contemporary performance, the Adidas ZX 1K Boost is a versatile choice for individuals who value both fashion and function in their footwear, making it a sought-after option in the world of athletic and lifestyle sneakers.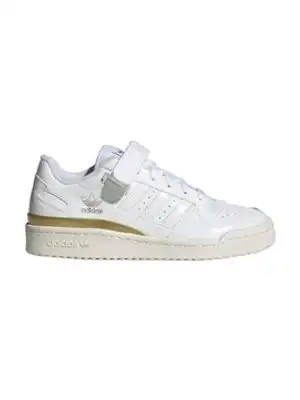 Adidas Forum Low is characterized by its distinctive high-top silhouette with adjustable ankle straps, which not only offer excellent ankle support but also add a unique and eye-catching style element.
The shoe's upper is typically constructed with a combination of leather and synthetic materials, delivering durability and a classic aesthetic.
These sneakers are known for their comfort and durability, making them suitable for both casual wear and athletic activities.
Adidas often releases the Forum Low in a variety of colorways, appealing to different style preferences and allowing wearers to express their individuality.
With its rich history and enduring appeal, the Adidas Forum Low remains a sought-after choice for those who appreciate the fusion of retro design and modern comfort in their footwear.
Adidas Sports Performance Ultraboost 4.0 DNA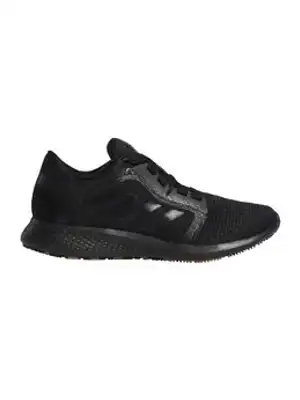 The Sports Performance Ultraboost 4.0 DNA is a highly popular running shoe known for its exceptional combination of style and performance.
This Adidas shoe model is part of the Ultraboost series, known for its innovative technology and sleek design.
The Ultraboost 4.0 DNA features a Primeknit upper, offering a snug and flexible fit while ensuring breathability.
The responsive Boost midsole, a hallmark of the Ultraboost line, delivers unmatched cushioning and energy return, making it suitable for both professional athletes and casual runners.
These shoes are equipped with a Torsion System for added stability and support, enhancing the overall running experience.
The Continental Rubber outsole provides excellent traction on various surfaces, ensuring a secure and confident stride.
Adidas often releases the Ultraboost 4.0 DNA in an array of color options, appealing to different style preferences.
This blend of cutting-edge technology and aesthetic appeal makes the Adidas Sports Performance Ultraboost 4.0 DNA a top choice for runners looking to elevate their performance while making a fashion statement.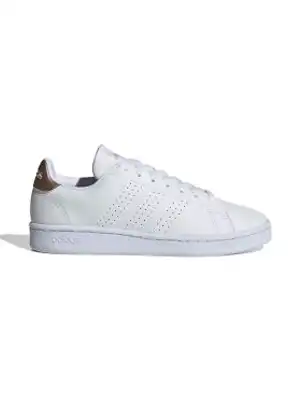 Advantage is a versatile and classic tennis-inspired sneaker suitable for both athletic activities and casual wear.
These Adidas shoes are recognized for their timeless design and dependable performance.
The Adidas Advantage features a synthetic leather upper that not only offers durability but also a clean and minimalist aesthetic. The iconic three-stripe branding on the sides adds a touch of Adidas's signature style.
These shoes are designed with comfort in mind, offering a padded collar and cushioned insole for a snug and supportive fit. The rubber cupsole provides excellent traction and stability, making them suitable for a range of activities.
Adidas Advantage is a popular choice for individuals who value simplicity, comfort, and a touch of athletic flair in their footwear.
These sneakers come in various color options, making it easy to find a pair that matches your style.
Whether you are heading to the court or simply want a stylish and comfortable everyday shoe, Adidas Advantage delivers a dependable and timeless choice.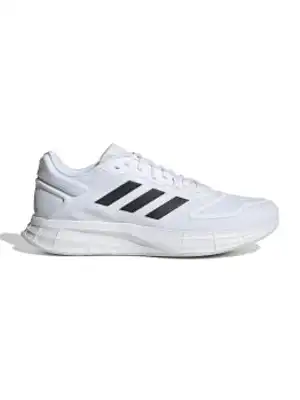 Adidas Duramo is a line of versatile athletic shoes that offers a balance between affordability, comfort, and performance.
These sneakers are designed to cater to a broad audience, making them a popular choice for both casual athletes and individuals seeking everyday comfort.
Adidas Duramo shoes feature a lightweight design and a simple, no-frills aesthetic. The upper is typically made of synthetic materials, providing durability and easy maintenance.
The cushioned midsole offers decent support and comfort, suitable for light workouts, walking, and daily activities.
These sneakers are known for their cost-effectiveness and reliability, making them an accessible choice for those seeking functional footwear without breaking the bank.
The rubber outsole provides traction and stability, contributing to their overall versatility.
These Adidas shoes come in various colorways, allowing wearers to express their style preferences.
Whether you are looking for affordable workout shoes or comfortable everyday footwear, Adidas Duramo delivers a budget-friendly and practical option.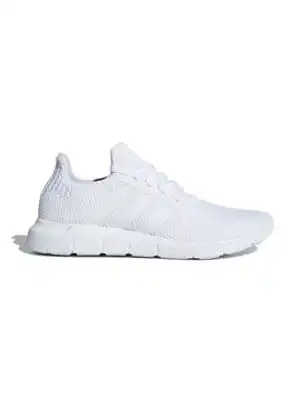 The Swift Run is a popular and versatile sneaker renowned for its combination of style and comfort.
These Adidas shoes are part of its lifestyle footwear collection, offering a blend of modern aesthetics and athletic functionality.
Swift Run sneakers feature a knit or mesh upper, which provides a comfortable and breathable fit.
This lightweight design, along with the cushioned midsole, ensures a comfortable and supportive feel for various activities, from walking to light jogging.
It is characterized by its sleek and minimalist aesthetic, often showcasing the iconic three-stripe branding. The versatility of these shoes allows for easy integration into everyday outfits.
With its affordability and a variety of color options, this Adidas shoe appeals to individuals looking for a fashionable yet practical footwear option.
Whether you are strolling through the city or want comfortable shoes for daily wear, the Swift Run combines style and functionality.
Adidas Core Adilette Slides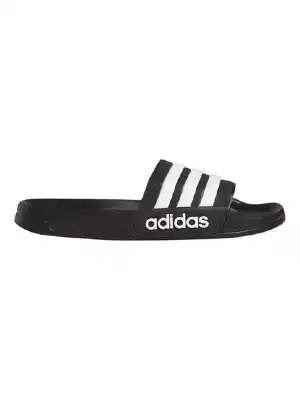 The Adidas Core Adilette is a classic slide sandal recognized for its simple yet timeless design.
As part of Adidas's slide sandal collection, the Core Adilette offers comfort and ease of wear for various activities and casual outings.
These slides feature a synthetic upper with the iconic Adidas three stripes on the wide strap, providing a secure and adjustable fit.
The contoured footbed offers cushioning and support, making them suitable for post-workout recovery or laid-back comfort during warm weather.
Adidas Core Adilette sandals are known for their versatility and practicality, often coming in a range of color options.
They are a favorite choice for individuals seeking effortless and comfortable footwear for casual use.
Whether you are heading to the pool, lounging at home, or need convenient slip-on shoes, the Adidas Core Adilette embodies a blend of simplicity and comfort.
FAQs About Adidas Shoes in Nigeria
Below, you will find some commonly asked questions regarding Adidas shoes in Nigeria:
Are the Adidas shoes available on Jumia original?
Yes, you can find genuine Adidas shoes on Jumia by purchasing from the official store.

Jumia typically designates original Adidas products with an "official store" tag for clarity and authenticity within the marketplace.
Where can I find original Adidas shoes in physical stores in Nigeria?
Adidas has a store in Lagos, but you can also find their stuff in different shops around Nigeria.

To make sure you are getting real Adidas gear and not knock-offs, it is a good idea to check out their official store on Jumia.

They deliver to most states, so it is a reliable way to get genuine Adidas products, especially if you do not live in Lagos.
What is the price of Adidas shoes in Nigeria?
The prices of Nike shoes in Nigeria can differ, depending on factors like the type (sneaker or slide), model, size, and style you're interested in.

Typically, you can find them in a range from ₦12,950 to ₦87,000.

Here are some popular models and their respective prices, based on information from various online sources:

1. Adidas NMD_R1: ₦87,000
2. Adidas ZX 1K Boost: ₦65,300
3. Adidas Forum Low: ₦65,000
4. Adidas Sports Performance Ultraboost 4.0 DNA: ₦61,500
5. Adidas Advantage: ₦54,000
6. Adidas Duramo: ₦46,500
7. Adidas Swift Run: ₦40,600
8. Adidas Core Adilette Slides: ₦12,950
Is there an official Adidas store in Nigeria?
Yes, Adidas has an official store, both online and with a physical store you can visit.

The Adidas physical store is currently situated in Lagos at Victoria Island, Lagos. However, through its official online store, you can make purchases from any location in Nigeria and have your items delivered to your doorstep.
Where can I buy original Adidas shoes in Abuja?
If you live in Abuja and need an Adidas shoe, consider shopping through their Jumia official store as the delivery is usually fast to locations within FCT.

As of now, there is no official Adidas store in Abuja or any part of FCT hence, shopping online could be the best route for you.
Is there an Adidas store in Lekki, Lagos?
There is not an official Adidas store in Lekki, but you can explore various fashion stores that carry Adidas shoes and clothing.

If you reside in Lekki and prefer a physical shopping experience, you can visit Victoria Island, where Adidas has an official walk-in store.

However, if distance is a concern, you can also consider shopping through the Adidas online store on Jumia, providing a convenient way to access their products.
How much is the delivery fee for Adidas shoes on Jumia?
Jumia's delivery fee fluctuates based on your location, and, for instance, in a state as distant as Sokoto, it can be as low as ₦750 for in-store pickup.

The highest delivery fee we've come across for door-to-door delivery on Jumia is ₦2,080.

This seems reasonable, especially when you consider that you are receiving a trustworthy product from an official Adidas store.
Can I buy Adidas shoes on Jiji?
Jiji is a marketplace and you can find different listings from many individuals at varying prices.

But be careful because there is no none official Adidas store on the Jiji platform. If you are considering buying from there, ensure you see the product before you make payment.
Whether you are an athlete aiming for top performance, a fashion enthusiast staying in vogue, or simply in search of comfortable and dependable everyday footwear, Adidas has something to cater to your needs.
Thankfully, you can access quality Adidas shoes by visiting their Lagos store or shopping through their official online store in Nigeria.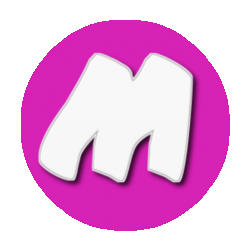 Latest posts by Happiness Crew
(see all)
You are the first in our research hence, we rallies around doing rigorous checks, testing and analysis to help you make a good decision on products and services. Meanwhile, items providers' final views are superior to ours.