Alat is your all round digital shop to satisfy your financial needs.
Almost every activity we engage in these days requires the use of money. This can be stressful especially if the funds are not quickly accessible as you would want them to be.

Alat is an online mobile money app that allows you to perform all your money transactions easily and conveniently from the comfort of your home. They have a supportive customer service team who are always ready to take on your inquiries and resolve issues.
Alat is a digital app that allows you to fund your account, pay bills, and save your money.
They offer you a well-designed debit card to help make payments and withdrawals as seamless as possible which is delivered to you in 5 working days across Nigeria at zero cost.
Alat also helps you to hit financial emergencies that threaten to shame you by providing short-term loans at low-interest rates in one click.
The platform ensures the security of your funds and account is a top priority to them hence, they put high and quality security measures in place to ensure your account(s) is well secured.
PROS
It is a mobile money app that does not just allow you to send and receive funds but also allows you to save for future financial objectives.
The app is user-friendly and easy to get in a few minutes after download.
Alat also has something for business owners, you can easily manage all your business finances in one place conveniently.
You can have total control of your account anywhere in the world.
You can also get corporate debit cards at no monthly cost to make business financial transactions easier.
Alat allows you to carry out transactions all at once in bulk saving you time and energy anywhere across the globe.
CONS
You cannot use the Alat virtual card on POS terminals, ATMs, and websites that require 3D authentication.
Download the app on your phone from the Google Play Store or iOS Appstore for Android and apple mobile devices.
Install the application, and enter your phone number, BVN, and date of birth to proceed. You will receive a 6-digit OTP on the phone number linked to your BVN which you will enter on the space provided. Click on "next" to proceed with the registration.
Enter your active email and password. Pick a security question and enter the answer you will remember easily.
The Alat payment and transfers feature allow you to move funds or deposits into your account through another debit card from any bank.
You can pay for bills, purchase airtime, and data, and have access to several financial products on Alat.
Alat provides users with a "savings goals feature", this feature helps you to set a savings target which can be daily, weekly, or monthly and helps you to meet the set target based on the savings schedule. You can set as many savings goals as you want and stay committed to reaching the target.
With the one debit, multiple credit feature you can transfer funds to up to 5000 beneficiaries.
Alat offers low-interest loan services to you in the case of emergencies. The loan feature enables you to have access to instant loans without any paperwork, without joining queues, and in a few minutes. You can lend up to ₦2,000,000 without collateral.
Alat has a feature called "Alat life". This feature allows you to read about sports, gives smart advice on security, gives you tips on money management, advice on how to stay committed and disciplined when saving towards a goal, and more.
With the "business Alat" CEOs and business owners can now have access to solutions that provides a vast array of financial services to help grow, manage and develop their businesses.
Alat is a digital mobile platform that is accessible anywhere around the globe. It offers personal and businesses high-quality financial products and services.  Alat 24/7  customer services allow users to make inquiries on any section of the app that is not clear to them.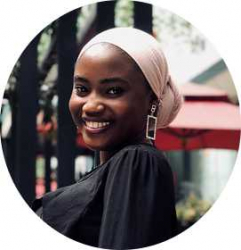 Latest posts by Halimah Idris
(see all)
You are the first in our research hence, we rallies around doing rigorous checks, testing and analysis to help you make a good decision on products and services. Meanwhile, items providers' final views are superior to ours.