Virtual dollar cards allow you to conveniently shop and make payments on foreign platforms where your naira card does not work.
These cards are prepaid dollar-denominated online cards that enable you to make payments for your online transactions anywhere in the world without hindrances.

Many digital platforms offer you the avenue to get virtual dollar cards to facilitate ease in paying for your online transactions. This makes shopping fun.
Virtual Dollar Cards in Nigeria
Below is the list of virtual dollar cards in Nigeria:
This app also allows payments in and out of Africa and allows users to create a virtual dollar card in Nigeria. Creating a USD-based payment card on Cashbuddy does not take time once you have done the needed KYC verification.
The CashBuddy virtual dollar card can be used to make transactions on several platforms such as Amazon, Apple Music, PayPal, Facebook, etc.
It is an interesting app with features like bill payment, money transfer, and buying of airtime, and it also allows the conversion of airtime to cash.
Chippercash is another digital investment platform in Nigeria that offers you a virtual dollar card. This card is like your usual debit card but the difference is that the former can only be used to facilitate online payments and transactions.
You can fund your Chippercash virtual dollar cards directly from your Chipper wallets and it is absolutely free to create a virtual dollar card on the app.
In addition, you should know that the daily maximum withdrawal and funding you can make with your Chippercash virtual dollar card is $1000 while the monthly spend limit is $5000.
This digital money app allows clients to enjoy a wide array of services on their platform. You can send money, save, invest, purchase, pay bills etc. on the app. Fundall has decided to introduce a virtual dollar card to make transactions seamless for users. The first virtual dollar card on Fundall is free and you can fund it for as low as $5 and then enjoy a series of online shopping without restrictions.
To create a Fundall virtual dollar card, you can follow the steps below:
Sign in to your Fundall app after creating the account
Click on the Spend button
Click on Cards options
Click on Add new card
Choose the virtual USD card option
Custom-make your card by adding your billing address
Fund the card with an amount not less than $5
Click on Fund card to create your card.
This platform is also a Nigerian FinTech that allows users to have access to a wide range of financial services. To make financial transactions and payments easier online. Wallet Africa introduced a virtual dollar card. However, this card comes with a monthly $1 charge, a 2% fee to fund it from another bank account and $0.75 charge for every international transaction.
To create a virtual dollar card on Wallet Africa. You should download the app, install and sign in after the necessary steps to open the account has been completed. Click on cards on the main page, click on create cards, select the virtual dollar card option, create and fund your card by following the instructions.
This is also a digital platform that enables you to send funds to Nigeria from all over the world as well as remits from Nigeria.
You can also create a virtual dollar card using this app to ensure easy online payments or transactions. One unique feature that Changera possess is you can create more than one virtual dollar card on the platform. This allows you to own several online cards for different digital transactions.
You can fund your Changera virtual dollar cards through a Crypto wallet or Fiat.
This is a digital FinTech app that allows you to send and receive funds from around the world in a few minutes. Payday is an online app that offers a one-stop shop for all your financial needs. In addition to this, payday offers users the services of a virtual dollar card option to enhance online transactions and make payments much easier from anywhere in the world.
To create a virtual dollar card on your payday app, you will be charged a $5 fee after which you can fund the card and make all your online payments without restrictions.
Bitmama is a cryptocurrency-focused digital money app that allows you to have access to several crypto assets on its app. You can sell or buy currencies that include Bitcoin, Ethereum, Ripple and others with your Bitmama app.
One great thing about Bitmama is it offers you a well-designed virtual dollar card to facilitate and enhance easy online payments and you can spend up to $10,000 with your Bitmama virtual dollar card. To get a Bitmama virtual dollar card, all you need to do is ;
Sign in on your Bitmama mobile app
Go to the main menu on the dashboard and click on "cards"
Select "virtual" after which you must have verified your account to level 3 because it is a condition you must meet to create a virtual card on the Bitmama app.
After the third verification, choose the card you want with your preferred monthly transaction limit.
Follow the prompts to pay for the card and complete the card-creation process.
The Bitsika app is a FinTech app available in Nigeria and several other African countries. This app provides a digital space to make your financial operations without having to visit a physical bank and stay in long queues for hours.
You can send and receive funds in naira, cedis, cryptocurrency etc. and also make several online transactions with the use of the app's virtual dollar card. The virtual dollar card comes with an $8 fee charged to your account. This card, however, allows you to have a great online spending experience.
This is another digital financial platform that offers an avenue to receive money from several countries to Nigeria as well as send funds to many countries from Nigeria.
This platform offers users a virtual dollar card option to make online transactions as easy as possible. The KYC-verified account holders on this platform are eligible to have a virtual dollar card which is activated immediately and available to be used on your favourite shopping platform.
Spectrocard is a cryptocurrency trading platform where you can buy and sell several digital currencies as well as access crypto-based loans and savings.
To allow you access to your digital funds, this platform provides virtual dollar cards to enable you to exchange your cryptocurrency for fiat at ease.
Its dollar card is supported for use on several shopping platforms including Amazon, AliExpress and others.
To get started using this platform:
Create an account with Spectrocard and wait for a verification mail to be sent to you.
Fill in all the required information and details
Fund your Spectrocard account with any digital currency and follow the prompts to create a virtual dollar card.
Flux virtual dollar cards are non-physical cards that allow you to spend dollars online, and more interestingly, they have higher limits than the card spending limit on Nigerian bank debit cards.
Creating a Flux virtual card account is quick and easy if you follow the steps below
-Open the Flux app and complete the verification process by uploading your BVN and taking an instant selfie.
-Click on the Menu > Settings > Profile > Address.
-Add a valid address and a proof of address (Utility bill or Bank statement).
-Click on the card icon on the homepage and create your card.
-Choose what you want your card to look like and confirm card details.
-Complete the process of creating your virtual dollar MasterCard
Geegpay is a product owned by Raenest, a digital finance platform for the Gig economy. Geegpay provides virtual cards which can be used to make payments online, and shop, without unnecessary bank limits across millions of websites. One of the amazing features of Geegpay is that it allows users to access their accounts from any region of the world by connecting to the internet.
Creating a Geegpay account is quick and easy if you follow the steps below.
Download the app on your mobile device via your AppStore or PlayStore, and sign up for an account. It's quick, easy, and free!
-Once you're signed in, click on the "Cards" tab at the top of the page.
-Click on "Create a new card."
-Enter the required information and click "Create Card."
-That's it! Your new virtual dollar card will be created and ready to use.
Using a naira card to make payments online is great, however, there are some platforms that only accept payments in dollars.
Situations like this can be frustrating if you do not have a virtual dollar card. These cards are not physically available to you but you can use them within the app anytime you want to make an online payment.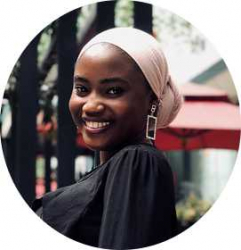 Latest posts by Halimah Idris
(see all)
You are the first in our research hence, we rallies around doing rigorous checks, testing and analysis to help you make a good decision on products and services. Meanwhile, items providers' final views are superior to ours.