PalmPay is a digital bank that satisfies your financial needs with features that allows you to make transactions such as sending and receiving money, paying bills, and more.
If you have been searching for a bank that helps you save, transfer funds seamlessly, pay bills, and offer other financial services, this is where Palmpay comes in.

It is for you if you have never heard of earning while you spend, Palmpay gives you a clear picture of what that means with its cashback feature.

For someone who finds it difficult to join other activities, because you need to visit the bank, Palmpay brings the bank to you and frees you from the stress of a physical visit.
Transfer of funds on Palmpay is simple and swiftly done.
You can enjoy a lot of free transfers to other banks per month while transfers made to a Palmpay account are always free.
This platform is a digital money operator that is licensed by the Central Bank of Nigeria. This means your funds are well secured and Palmpay is legit.
You can refer others to create accounts and earn up to ₦2,000 for each referral.
If you want to make money on the side, you can register as a Palmpay POS agent and earn high commissions by bringing financial services to your community.
PROS
It helps to make your money move as swiftly as you want it.
You can pay bills, buy airtime, purchase data subscriptions, Dstv, etc conveniently on your app.
It helps you focus on other activities that might have been interrupted by satisfying all your financial needs from the comfort of your home.
This platform also creates job opportunities for those who will like to sign up as their POS agents.
It enables the agents to earn more money by offering low charges, attractive commissions, etc.
CONS
There is no browser version of the app yet, which means you cannot use the app if you do not have a mobile device.
You can only make 3 free transfers to other banks in a day.
Download the app via the App Store or Play Store for Apple and Android mobile devices respectively.
Install the app and follow the prompts to create an account (you can create an account on the app even if you do not have a BVN).
Fill in the required details and get ready to move your funds however you wish.
After you open the app, click on the sign-up button and input your active phone number with your country code, verify the number and enter your preferred 4-digit pin, then click on "confirm".
The PalmPay referral code is 1IW6MX and you can use it to earn up to 2,100 when you sign up and start doing transactions.
The good thing is, you can increase your earnings by telling your friends which makes it one of the best platforms to earn money by inviting your friends.
The PalmPay USSD Code is *652# and you can use it to check your balance and access basic services like buying airtime, checking your account balance and completing transactions.
This is a digital mobile app that allows you to send funds, make payments, pay your bills, and shop online, from your home.
It has the "spend and earn" feature where you can pay bills, shop, purchase data, or airtime, and a specific per cent is returned to you via discounts and cash backs. This allows users to save a reasonable amount of money on the app.
This platform also consists of "enterprise products" that are offered to business owners to help scale and grow their businesses.
Aside from receiving and sending funds, there are other ways to make money via the Palmpay app. You can make money by playing the lucky draw game on the app, cash spree, rewards on all transactions made on the app, joining Palmforce, and awoof moni.
Playing Lucky Game: This game is like a draw. A lucky draw is made where you stand a chance of winning different cash prizes, airtime coupons, and discounts.
This game is a game of luck so you might as well not win anything. However, it is a game worth playing. You have to be a frequent user of Palmpay who makes transactions regularly before you are given a chance to participate in the lucky draw game.
Cash Spree: This is another way to earn money on the Palmpay app. It is a referral feature that allows you to earn money as soon as you invite someone and they create a Palmpay account with your referral link. You earn ₦300 for every person you refer who opens a Palmpay account and the invitees also receive a welcome bonus.
Rewards on other transactions: Other transactions such as paying bills, buying airtime, etc, usually come with rewards. The rewards might be in the form of Palmpoints or discounts. A 50% discount can be given to you when you purchase airtime. Also, a palm point is equivalent to ₦1. You can equally earn a bonus of 2% discount whenever you pay bills like electricity and TV subscriptions. However, it is important to note that this discount only applies to the first 5 bill payments you make.
PalmForce: This is another feature that allows you to earn on Palmpay. Whenever you refer up to five people who successfully register on the app, you automatically qualify as a Palmforce member. As a Palmforce member, you can now earn real cash instead of palm points on referrals. As soon as you refer people and they create an account on Palmpay, your rewards are paid directly into your account. In addition, when the invitee(s) make a transaction, you will earn a bonus depending on how much is used in the transaction.
Awoof Moni: This is also a referral-earning feature, however, a bit different from the others. In awoof moni, you and the person invited get rewarded. For instance, if you sent an airtime coupon worth a particular amount to a registered user or someone who is yet to register and they redeem it, you will get a cashback of the amount you sent once the recipient redeems the coupon. This is a great way to get airtime for free just by referring friends.
The account has 3 tiers. Level 1-3. If you registered your account with just your phone number and name, your daily limit of transactions is ₦50,000 and the daily account balance is ₦300,000.
For level 2, you have to upgrade your account with your phone number, full name, government-issued ID, and BVN. This allows you to have a daily limit of ₦300,000 and an account balance limit of ₦500,000.
For level 3, the same as level 2 applies plus your KYC verification. This allows you to have a ₦5 million daily transaction limit and an unlimited daily account balance.
Palmpay aims towards making sure users have the banks in their pockets with a well-versed user-friendly app that consists of several features to make financial services and products very accessible.
It provides business owners with tools that will help them manage their businesses, make and receive payments easily, grow their customer audience as well as expand their revenues.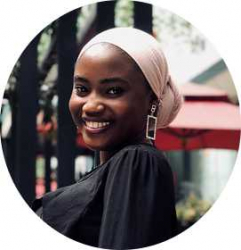 Latest posts by Halimah Idris
(see all)
You are the first in our research hence, we rallies around doing rigorous checks, testing and analysis to help you make a good decision on products and services. Meanwhile, items providers' final views are superior to ours.