Sparkle is a digital banking platform allowing you to access financial services anywhere.
One of the reasons why people find it difficult to save is because of the stress that is associated with going to physical banks.

It is true that banking actually makes our financial life easier however, what happens if the bank is brought to you in your home instead of going to them? This makes life much easier to navigate.

With the Sparkle digital app, you can have access to several financial options such as savings plans, making payments, managing your money, tracking your expenses, paying bills, etc.
It is a digital money app that aims to provide great financial services to its customers.
This platform ensures that all the funds with them are protected and secured with high-level security measures.
You can make budgets on the app to make sure you don't spend unnecessarily. You can get the daily, weekly, and monthly breakdown of what you spend your funds on.
Sparkle also allows you to track, monitor, and analyze your spending.
PROS
You can send funds, request money, and split bills with friends and family easily and conveniently on the sparkle app.
It allows you to pay bills without having to go to branches in the name of "bills payment". You can purchase your airtime, buy data, and pay for subscriptions, cable, utility, and transportation bills seamlessly on the app.
It offers features such as automated payments where a certain amount is paid at regular intervals without you having to input the details, QR payments where you can send or receive funds using a unique QR code, etc. are available on the app.
The app is user-friendly and easy to navigate.
It also offers physical and virtual debit cards for online and physical payments stress-free and easy to make.
Its debit card has card control. This control helps to checkmate daily, weekly, or monthly expenses based on set budget limits. The card control also blocks or freezes your card once there is a need for it for instance in the case where your card is stolen or got lost.
CONS
The platform is yet to have a kids' financial plan on the app.
The minimum amount of ₦100,000 on a high-earning stash savings account may be a lot for most people.
Download and become a "sparkler" under 5minutes. All you have to do is download the app on the app store or play store on your apple or android mobile devices respectively.
Install the application and create your account with an active phone number, email, and BVN in a few minutes. However, you must be 18 years old and above before you can open a Sparkle account.
SPARKLEPAY: This is a unique feature on the platform that allows you to send funds or receive money with the use of a generated payment link. Instead of going through so many steps to send money, you can easily create a link with the sparkle pay feature. It allows you to generate a payment link with the amount you wish to send, you can add messages or the payment description(optional). After generating the link, the fund(s) is taken from your account and sent to the receiver. This link automatically opens the app if the recipient has the Sparkle app but if not, a browser is made available to make direct transfers to your bank account.
SPARKLE CARDS: it offers a physical and virtual debit card for easy physical and online purchases. The virtual cards are issued instantly once you apply for them. It comes in a unique colour combination which makes it attractive but this is not the only spec of Sparkle cards. The cards come with a card control on the app that allows you to manage transactions, limit spending, deactivate the card once there is an emergency, etc.
SPARKLE INDY: This is a virtual assistant or help on the Sparkle app that helps to answer any questions you might have about the app. It answers general questions, offers up-to-date financial guides, and also answers questions about general transactions on the application. One unique feature about Indy is the fact that it is basically designed to respond to everyone differently based on what you ask to ensure that it meets and satisfies all your financial needs. Indy ensures each Sparkler has a great and hitch-free experience on the app.
SPARKLE STASH: This is a customized savings option. With the stash feature, you can decide to save your money alone, with a group of other sparklers, or fixed savings to earn interest. Sparkle stash allows you to customize your savings however you want it. You can create a stash with a name and photo and set it up for daily, weekly, or monthly savings. You can also decide to save as you spend. This allows you to save a certain percentage off any debit action on your account. With a minimum of ₦100,000, you can save and earn up to 3.75% interest rates per annum. (you can only withdraw twice from your interest stash).
The stash also allows you to save as a group. This is called "Esusu" where you and other sparklers come together to save towards a financial goal/objective. You can also include non-sparklers to join the group.
BREAKDOWN: The breakdown feature shows you a detailed breakdown and analysis of how you spent your money as well as transactions on the app. This up-to-date analysis of all your expenses helps to keep you enlightened on what and how you spend your money. Therefore, helps you to manage all your transactions efficiently. The Sparkle breakdown feature helps to categorize your spending and transactions into various tags such as bills, food, health, education, transportation, etc. to provide you with a detailed list of your transactions.
Sparkle also offers you a comprehensive monthly statement just like in your local banks but more fun and interesting.
SPARKLE'S INVENTORY AND SMART INVOICE: This feature is only available to Sparkle business accounts that are interested in the product management offer on the app. This feature aids you in virtual record keeping as well as basic accounting of your products.
The smart invoice is used to make payment requests from your buyers, it can be shared via mail or on the app and includes the product and all necessary information about the product and information about your business to make it look plausible, and to ensure efficient product payments.
SPLIT BILLS/PAYMENT AND KEEP TABS: This feature enables you to split bills between you and your friends or family. You can make multiple payment requests or manually edit the amount for contributions to be made to pay for a joint transaction or bill. For instance, after a girls' night out, you all want to contribute to pay for the meal, this feature allows you to evenly or manually add the contribution to everyone's tab and pay for the food. You can also keep tabs or records of all your payments with friends and family.
SPARKLE LOYALTY: This is the feature that allows you to earn rewards for being a loyal member of the app. It takes 4 levels to get to this point, trust, transparency, simplicity, and freedom to unlock the loyalty reward points. It allows you to get rewards for everyday transactions made on the app such as stash balances, payment of bills, splitting bills, referrals, etc.
PAYMENT: the platform allows you to make instant transfers, request money, pay for airtime, bills, etc. You can make free Sparkle to Sparkle transfers. There is also a "request money" feature that allows you to directly request for your from anybody owing you without asking too many questions. This feature allows you to make transfers, schedule bill payments, receive payments, and purchase airtime or data easily on the app.
Other features include payroll which allows you to make use of the bulk payment features to easily pay your employees' salaries, pay taxes digitally as well as review and update employees' profiles if needed.
Features like the Sparkle Business; help you to register your business name and get the Tax Identification Number(TIN). You can get the TIN on the app for ₦5,000 (this applies to the first 100 businesses you register).
Sparkles is working towards ensuring that digital banking is a lot easier and hitch-free for you. Sparkle provides a vast array of features to give users quality financial services.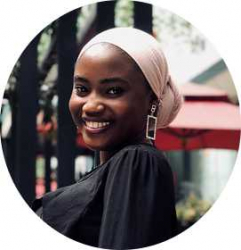 Latest posts by Halimah Idris
(see all)
You are the first in our research hence, we rallies around doing rigorous checks, testing and analysis to help you make a good decision on products and services. Meanwhile, items providers' final views are superior to ours.