Qasa rechargeable fan comes in as one of the most popular and durable comfort providers when it comes to fans in Nigeria.
We could go on and on about how important home appliances like fans are and still not be able to overemphasize their advantages especially when it is a Qasa rechargeable fan that has a lot of positive reviews tracked on online shopping platforms.

This fan gives you coolness such that life worries feel trivial and your body calms with the comfort it brings. Qasa rechargeable fans are exceptionally durable and reliable, hence giving you value for and beyond what you paid for.
Qasa Rechargeable Fan Prices in Nigeria
Here below are the prices of Qasa rechargeable fans you can get for that special comfort moment:
| | | | |
| --- | --- | --- | --- |
| Inches | Type | Price From | Jumia Page |
| 18 Inches | Mist Standing | ₦ 60, 000 | |
| 16 Inches | Mist Standing | ₦ 55, 000 | |
| 18 Inches | Standing | ₦ 37, 000 | |
| 16 Inches | Standing | ₦ 32, 000 | |
| 12 Inches | Table | ₦ 19, 000 | |
| 7 Inches | Table | ₦ 10, 000 | |
| 6 Inches | Table | ₦ 8, 000 | |
| 4 Inches (2in1) | Table | ₦ 7, 500 | |
Qasa 16 Inches Rechargeable Fan with Mist Price in Nigeria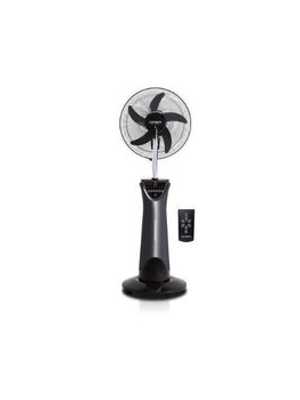 If you want to buy this
This Qasa Rechargeable fan model is one of a kind. As the name implies, it comes as a water mist fan and has a remote control.
Double level comfort but first of all, let us understand what mist fans are and how they work.
These fans merge a powerful blower fan and a high-pressure water pump. The water puffs through what we call "misting nozzles" producing fine and clean water droplets barely noticeable.
The droplets don't stain or make your clothes wet but instead provide a fresh cooling effect that keeps you cool and refreshed.
It has a closed water tank which you can fill up from time to time, it is well secured, hence can be used indoors without fear of leakages.
Misting fans make use of the three methods in which your body can cool off to keep you refreshed. The evaporation, conduction and convection methods as identified by the science of thermodynamics are all used by a misting fan to keep you and your home cool and fresh.
The Qasa 16 Inches mist rechargeable fan comes with remote control, a detachable 2-litre water tank to fill and drain water, adjustable height and multi-angle tilting, power supply of AC230V, 50hz, 80W power input, breeze selection of normal, natural and sleep, wheels that aids easy mobility, protection against overcharge/discharge, AC/DC operated and a digital control system with LED display.
Qasa 18 Inches Rechargeable Fan with Mist Price in Nigeria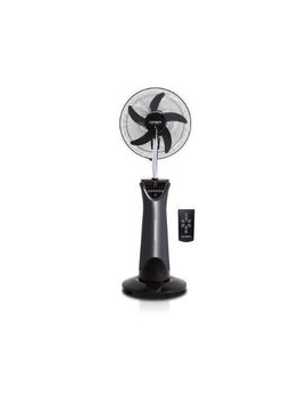 If you want to buy this
This Qasa standing fan with mist model is one of the water-mist powered rechargeable fans from Qasa. 
Enjoy good ventilation and the coolness that comes with its mist feature, this is a great partner to have for that amazing relaxation moment.
It has a rechargeable battery capacity of 12v 4.5Ah, which can give you airflow for 12 hours when on a low speed or up to 3 and half hours on its highest speed.
Just as most Qasa rechargeable fans that have standing bases, this comes with a remote giving you the freedom and convenience to manage its operation while sitting or in your bed.
It is a better alternative to the 16 inches mist fan if you are planning to have something amazing for ventilation in your home.
Qasa 16 Inches Rechargeable Fan Price in Nigeria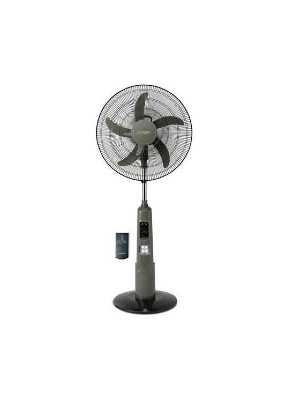 If you want to buy this
This Qasa 16 inches rechargeable fan is definitely here to stay. It has a remote that can be used to control it anywhere in the room.
If it is kept so far, use the remote to manage it. You don't have to get up from your bed, especially whenever you are very tired.
It also has an LED light. The FRC-40D is adjustable, very easy to use and has a battery life of about 6-9 hours.
This fan is durable, portable, and reliable to give you that needed ventilation. It is also pocket friendly which gives you a run for your money and the value you paid for. The fan is closely and neatly packed together as such the components are very easy to understand.
The features of Qasa 16 inches rechargeable fan includes a 5 blade size for super airflow, a remote control, a USB port for charging, 6-9 hours battery life, Led lights that are fully bright, a charging indicator and an over/discharge shield. Above all, its noiseless operation while in motion makes it a good buy to consider.
Qasa 12 Inches Rechargeable Fan Price in Nigeria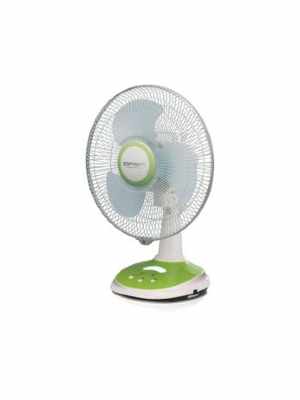 If you want to buy this
The 12 Inches Qasa rechargeable fan is of excellent quality providing adequate comfort and can be used at any time required.
You don't need to wait for public power or a generator to run for you to use this device so long as it is well-charged.
It can be utilized continuously for a period of 4 hours at high speed or 8 hours if it is on a low speed running without electricity but its battery.
This Qasa rechargeable fan has several key features like power consumption of 24 watts, a 6V4.5Ah battery, night light, automatic-off timer, overcharge/discharge protection, multi-angle tilting, a USB port to fix your chargers, DC 12v socket for solar power or other power input of 12v, oscillation control knob and an AC/DC automatic change over.
Qasa 18 Inches Rechargeable Fan Price in Nigeria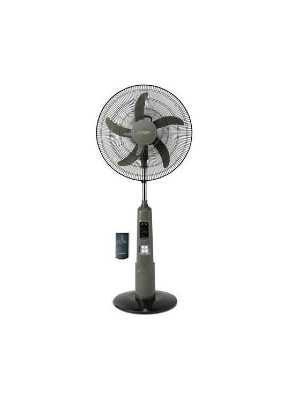 If you want to buy this
With the purchase of this Qasa rechargeable fan, heat problems have been sorted. It runs 3-4hours on high speed and 12hours on low speed while without electricity.
It also comes with a remote control to ensure ease in putting it on or off without necessary moving too close to it.
It has several components and features including AC230V, 50hz power supply, 33w power input, a rechargeable and durable battery of 12V 4.5Ah, adjustable height, a low, mid and high-speed pace, USB port for charging, LED night light, DC 15V input socket available for solar charging, automatic AC/DC change over and a discharge or overcharge protection.
Qasa 6 Inches Rechargeable Fan Price in Nigeria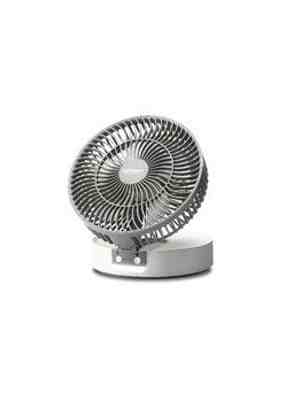 If you want to buy this
This is another model of Qasa rechargeable table fan which gives complete comfort when necessary. This fan is very durable, handy and efficient.
This 6-inches goodness makes sure you and your family have no encounter with heat especially when there is no electricity or your generator set has run out of fuel.
Its key features include 24w power utilization, 90-degree angle bends, night light, an overcharge/ discharge safety, a USB port, an AC/DC automatic change over and a swing control knob.
Qasa 7 Inches Rechargeable Fan Price in Nigeria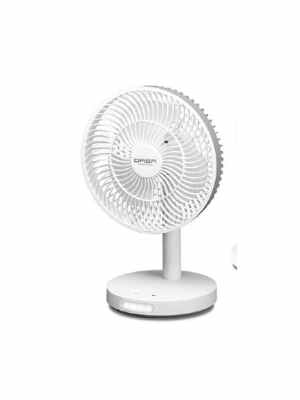 If you want to buy this
One thing I find really attractive about this Qasa 7 inches rechargeable table fan is its portability.
This fan is one of Qasa's fine products. It is very durable, efficient and effective in addition to being convenient to use.
Just like the 6 inches, its power consumption is 24W with a battery of 6V4.5Ah. It has 3 levels of speed, low, medium and high pace. The 7 inches fan can run nonstop for 4 hours at high speed and 8 hours at low speed on battery usage.
The Qasa 7 inches rechargeable fan consists of the following features, a USB port to help charge your phones, 12 blade size, a night light, an automatic off timer, AC/DC automatic change over, a discharge or overcharge shield, multi-angle bends, oscillation control knob and a DC 12 V socket for solar power.
Qasa Handheld Rechargeable Fan with Lantern Price in Nigeria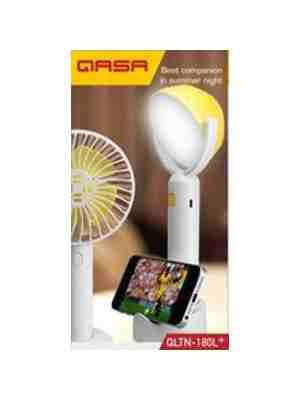 If you want to buy this
This is a suitable fan if you switch between positions while having fun at home and need ventilation, thanks to its portable design.
It is very convenient and easy to use. Its key features include a lithium battery of 3.7V, 2000mAh battery capacity, power input of 3W, a detachable standing fan(as mentioned above), an indicator to show while charging, It can be held or placed on the base as a desktop and it also has three level of speed, the low, medium and high-speed rate.
This fan is one of the most convenient Qasa fans because, in addition to being user friendly, it is also flexible to take around. Imagine working under extreme heat at night with no hope of public electricity restoration and a faulty generator, you can easily just put on your handheld fan, and enjoy its lantern, and airflow power.
Rest assured, when it comes to reducing heat and keeping you cool and fresh with or without electricity, Qasa has one of the best lines of rechargeable fans to have at home. They are very durable, easy to use and navigate, effective and affordable. You should have one on your shopping list if you are planning to get a fan soon.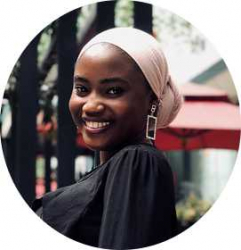 Latest posts by Halimah Idris
(see all)
You are the first in our research hence, we rallies around doing rigorous checks, testing and analysis to help you make a good decision on products and services. Meanwhile, items providers' final views are superior to ours.