Samsung TVs have proven to be one of the best visual display devices over time. The brand is known for being premium when it comes to delivery and the TV quality proves that.
This television brand is known for good quality and promises to stand the test of time offering you amazing pictures and audio sounds.

Based on tracked reviews, they are poised to give you complete value for the money spent on them.

With varying sizes and prices, you can get something that fits your pocket for that amazing visuals at home
Samsung TV Prices in Nigeria
Here below are the prices of Samsung televisions in Nigeria:
| | | |
| --- | --- | --- |
| Screen Size | Price From | Jumia Page |
| 32 Inch | ₦ 140, 000 | |
| 40 Inch | ₦ 202, 000 | |
| 43 Inch | ₦ 260, 000 | |
| 50 Inch | ₦ 308, 000 | |
| 55 Inch | ₦ 600, 000 | |
| 65 Inch | ₦ 605, 000 | |
| 75 Inch | ₦ 1, 100 000 | |
| 82 Inch | ₦ 1, 900 000 | |
Samsung 32 Inch TV Price in Nigeria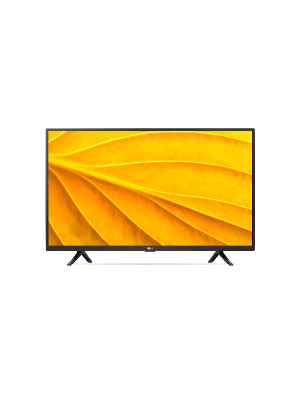 This Samsung TV is a 2020 model which comes with a 32-inch HD flat screen. It is designed with the infusion of the latest technology e.g a USB port where you can fix your flash drive to watch movies saved on it. This TV is reliable, and durable and offers high-quality pictures no matter the genre of movie you are watching.
This LED Samsung TV has a compact design which makes it easier to fit perfectly into your living room while adding more beauty to it.
The key features of this TV include a 32 inches display size, a display resolution of HD 1366 by 768p, USB and HDMI connectivity, power consumption of 69W, remote control, power supply of AC100-240V 50-60Hz, peak luminance ratio of 73%, clear vibrant colours and a noise filtering option to have a good watching experience.
Samsung 40 Inch TV Price in Nigeria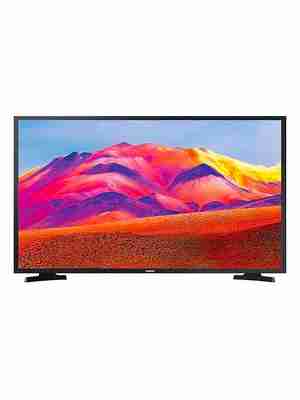 This 40-inch visual display device is one of Samsung's finest. It has a compact design and size which makes it fit perfectly in your rooms.
Samsung 40 inch FHD has the following features, 1920 by 1080 resolution, 40-inch screen size, mega contrast dynamic ratio, hyperreal video/picture engine, and a high-quality colour enhancer.
It also consists of film mode, clear motion rate(50), USB and HDMI connectivity with a reliable graphic user interface.
This TV has premium features capable of giving you vibrant colourful pictures, filters unnecessary noise and offers a great user experience generally.
Samsung 43 Inch TV Price in Nigeria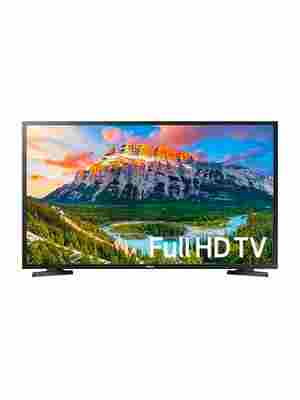 This is another Samsung TV that provides amazing and good quality graphics. It is of great quality and its addition to your home devices can never be regretted.
Key features of the UA43N5000 include a full HD resolution of 1920 by 1080 pixels, a sharp and vibrant image display, a beautiful colour display, noise filter to enhance a great watching experience, it uses 2 front speakers of about 20W giving you a theatre watching experience.
It also comes with an HDMI and USB port where you can fix your cables and external devices to enjoy more videos and sounds.
Samsung 50 Inch TV Price in Nigeria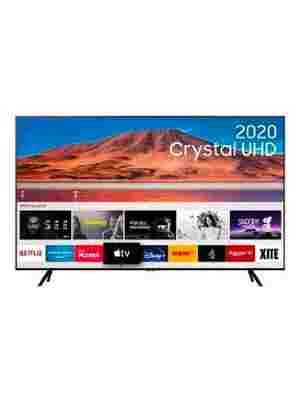 This is a Samsung 50 inches ultra high definition class smart UHD 4K HDR TV. It offers one of the best standard quality pictures and videos.
The Samsung 50 inch is an absolutely amazing design TV for your home. It consists of modernized technologies while adding to your room's aesthetic beauty.
You can watch your favourite movies and TV series through its 3840 x 2160p resolution. This TV comes with an LCD panel and utilizes a 120 motion rate technology which enhances fast-moving images and reduces blurry displays.
It consists of the following components; multi-room link, Bluetooth headset support, digital channel search, auto motion, closed captioning, analogue turner, clean view, HDMI and USB connectivity, electronic program guide, manual guide, V-Chip, an eco sensor with auto power off.
Other key features include a built-in Wi-Fi, ethernet and airplay connectivity which allows you access to internet-based videos/images, voice control support by Alexa, Google Assistant and Bixby, compatibility with HDR10, HDR10+ and HLG, a full web browser and screen mirroring technology is also available in the 50 inches Samsung TV.
Samsung 55 Inch TV Price in Nigeria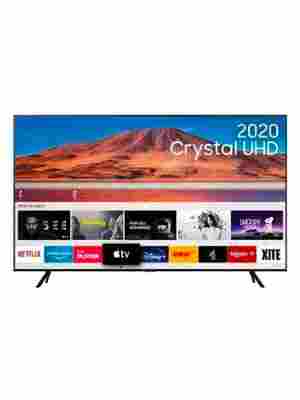 This Samsung TV 55 inch is a QLED crystal UHD 4k smart television making the brand outdid itself with this standard quality offering amazing image and video visuals.
Its components and key features include a 50 inches UHD screen, an edge-lit QLED, inbuilt Wi-Fi connectivity, UHD dimming, web browser, AppStore to search any application you need on the internet, phone to TV mirroring, an eco-censor, connect share, Google assistant, 3 HDMI and double USB connection ports.
This Samsung 50 inches TV also offers a very clean and sharp digital view to give you a lovely theatrical experience.
Samsung 65 Inch TV Price in Nigeria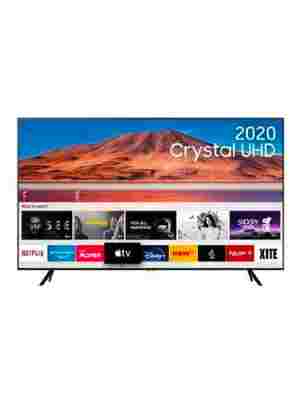 This is the Samsung 65 inches UHD TV. It provides the user with a great experience when it comes to image, video and audio qualities.
Its video features include a UHD up-scale picture engine, a 65-inch display screen size, premium HDR, UHD dimming, remote controller, Purcolour availability, 1400 picture quality index, film mode, an automatic motion and depth enhancer while the audio features include a 2CH speaker type with a bass reflect, Dolby digital and DTS codec available, has a multi-room connection link, wall-mount sound mode and 20w (RMS) sound output.
It also has web browser features for your internet based contents, a mobile-TV mirroring, HDMI and USB port connectivity also form a part of the Samsung TV 65 inch components.
Samsung 75 Inch TV Price in Nigeria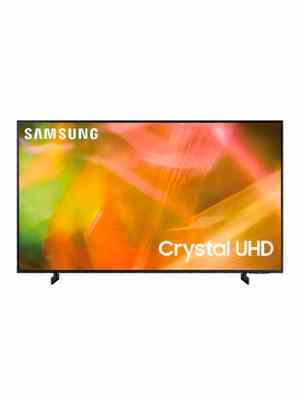 The 75 inches ultra slim is one of Samsung's finest visual display products. It is poised to give you an amazing cinema-like experience watching your favourite programmes through this display device.
The following key features are inherent in the TV; HDR10, HDR10+ compatibility, 75 inch UHD with 3840 by 2160 LED PANEL, 120 motion rate technology, low latency mode for gaming (auto), inbuilt internet connection such as WiFi, ethernet port connection capability, Airplay 2 for your internet-based video/pictures, phone-TV mirroring, Dolby digital, HDMI and USB port availability.
Other features you will fancy include; a multi-room link, eco-censor, clean view, closed captioning, V-chip, automatic power off, Bluetooth headset support and more.
Samsung 85 Inch TV Price in Nigeria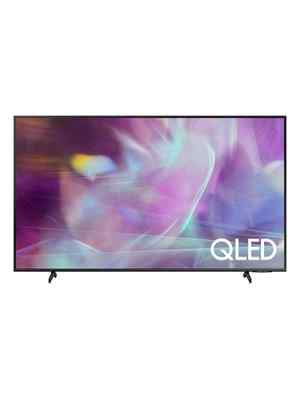 Just as big as you should know for its display size, it sure will give you that amazing theatre-like experience at home.
The Samsung 85 inches smart TV is as reliable as time, delivering great visuals through its widescreen making you experience clear picture qualities.
This model consists of an 85-inch screen size, smart hub, high standard colour display, UHD up-scaling, film mode, UHD dimming, curved screen, high dynamic range, automatic motion rate, mobile phone-TV mirroring and an auto depth screen enhancer.
These are various models of Samsung TVs and their prices. With every model comes a unique visual and audio experience.
Samsung TVs with one of the best soundbars around are the perfect home appliances you need to give your home that cinema experience. Their quality will sure give you value for your money and offers optimum performance.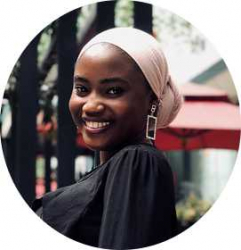 Latest posts by Halimah Idris
(see all)
You are the first in our research hence, we rallies around doing rigorous checks, testing and analysis to help you make a good decision on products and services. Meanwhile, items providers' final views are superior to ours.