Hisense TVs are some of the best electronic display devices you can get for your home for that amazing visual experience.
These televisions offer a high level of clean contrast images with vibrant colours to complement. Your TV shows and movies get more interesting when you watch them on a high definition clear screen.

The audio from any of the Hisense TVs is noise filtered and the speakers provide every single detail of sounds you want to hear. With premium display features, the videos from these televisions are of excellent quality without blurs or damaged views to give you that great level of watching experience.
Hisense TV Prices in Nigeria
Here below are the prices of Hisense televisions in Nigeria:
| | | |
| --- | --- | --- |
| Screen Size | Price From | Jumia Page |
| 32 Inch | ₦ 82, 000 | |
| 40 Inch | ₦ 145, 000 | |
| 43 Inch | ₦ 185, 000 | |
| 65 Inch | ₦ 393, 000 | |
| 85 Inch | ₦ 1, 850 000 | |
Hisense 32 Inch TV Price in Nigeria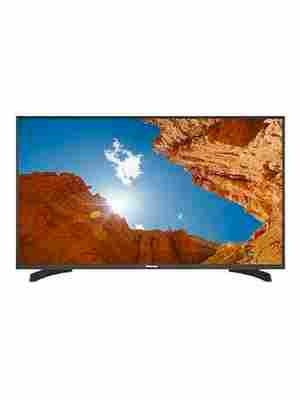 If you want to buy this
This is the Hisense 32 inch smart screen that delivers stunning images and videos.
This television has full modernized features and gets you stuck on your couches due to amazing visuals. The 32 inches smart Hisense TV offers high-quality pictures and compliments it with great sounds. You can watch all your amazing content from YouTube, Netflix, Amazon etc.
The features of this Hisense 32 inches smart TV include; 2 HDMI and 2 USB ports, 40 inches smart screen size, digital audio, AV, LAN, Netflix, YouTube, Wi-Fi and remote control to navigate the TV options.
Hisense 40 Inch TV Price in Nigeria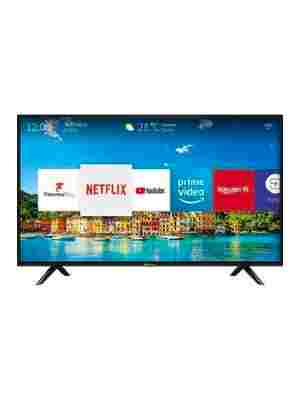 If you want to buy this
This is the 40 inches frameless Hisense TV which also delivers impeccable quality images. It is packed with civilized technological features and components. This TV offers clear images with vibrant colours and ensures every detail is shown in high definition. The speakers also output clear noise-filtered sounds to give you an uninterrupted nice watching experience.
The features of this 40 inches frameless TV are; 1920 X 1080 full high definition resolution, 40 inches frameless smart screen, automatic tuning, 2 by 6 watts of max audio output, Dolby digital, sound equalizer, AVL- automatic volume level, double HDMI and USB ports for your drives, single ethernet and VGA, LED backlight, WIFi, pre-installed Netflix, lip-sync moderator, PVR, automatic turn-off timer, picture mute, time shift, remote control, precision colour mapping to deliver scenes with detailed colours, manual and electronic user guide, sleep timer and speakers.
Hisense 43 Inch TV Price in Nigeria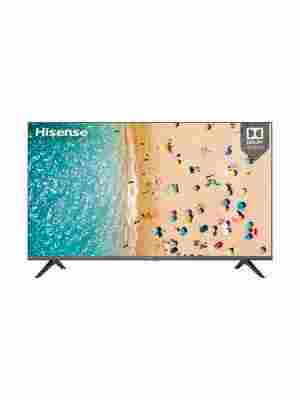 If you want to buy this
The Hisense Smart TV also comes with 43 inches sized smart screen. This television has a compact design which delivers high-resolution images. The images and sounds are of great quality which keeps you glued to your screen.
You can enjoy your favourite movies, shows, sports, and games in beautiful vivid and vibrant colours with smooth running of visuals without any interruptions whatsoever.
Other features and components include; HDMI, USB, AV, LAN, Digital audio output, pre-installed Netflix, YouTube, Amazon, and music channels such as Pandora is also present on your 43 inches Hisense smart TV, user guide and remote control.
Hisense 65 Inch TV Price in Nigeria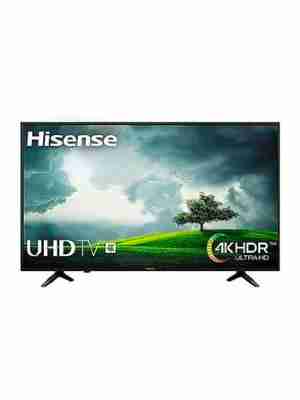 If you want to buy this
This 65 inches 4k UHD smart Hisense TV provides you with quality home entertainment and comfort. With this TV, your imagination is brought to life on a clear, sharp smart screen, it has features such as an electronic programming guide, parental rating lock, logical channel number, Wi-Fi, and energy-saving features which include the back control light that saves energy consumption.
Other features of this Hisense TV include; 65 inches 4k UHD screen size, 3 HDMI and 2 USB ports to enjoy all your favourite contents from your drives, ethernet, YouTube, AV input, antenna plus DTV input, digital audio output, HDMI ARC, manual user guide, electronic user guide, remote control and you might also get wall brackets.
Hisense 85 Inch TV Price in Nigeria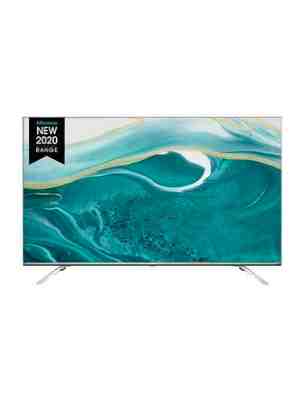 If you want to buy this
The Hisense 85 inches UHD 4K smart TV is a combination of everything good when it comes to electronic visual displays.
It has an amazing view quality, a clean sharp smart screen, infuses beautiful colours and delivers great sound output. The 4k upscale presence helps analyze images from frame to frame and moderate the pixels accurately with maximum brightness and shadows thereby upgrading the content to a 4k UHD quality.
This Hisense TV also has a WCG wide colour gamut which helps to expand the colours to above 90% DCI -P3, this is almost equivalent to seeing the images in real life, it also has a TV-mobile mirroring option.
It also recognizes the tiniest detail of speeding objects and readjusts the pixels to show clean, clear motions devoid of any blurs or interruptions.
Other features and components include; DTS studio sounds, HDMI and USB inputs to input your drive and watch all your favourite movies, 85 inches 4k UHD smart screen size, Wi-Fi, YouTube, Netflix, Game Center, prime video, AV, bezel-less design, DSTV app, manual user guide, remote control to navigate the TV options or functions and it also comes with a free wall bracket.
 Hisense TVs are a perfect addition to wherever you need them placed for an amazing viewing experience.
They come in different unique features and deliver an excellent quality visual ensuring you get that satisfaction befitting of a good buy from a trusted brand.
These televisions also come with good sound systems which adds a finishing touch to the amazing views the TV delivers. And combining it with one of the best Hisense soundbars will bring that complete cinema experience to your home.
They come in different prices and models and give you complete value for your money.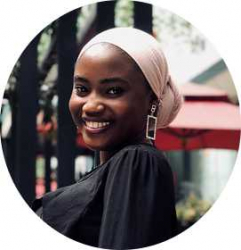 Latest posts by Halimah Idris
(see all)
You are the first in our research hence, we rallies around doing rigorous checks, testing and analysis to help you make a good decision on products and services. Meanwhile, items providers' final views are superior to ours.