V-bank has features of a modern neobank with savings and other value-added services available.
V-bank is a digital banking platform that provides you with several financial services with seamless access to your accounts, bill payments, withdrawals, and transfers.

Going to banks has a way of stressing you out especially if you combine it with your daily activities.

V-bank is an online bank where you can carry out all your financial transactions seamlessly without paperwork or unnecessary transaction charges. 
With V-bank, you do not need to bother yourself with transaction charges or maintenance fees.
V-banking allows you to enjoy multiple banking channels. You can add multiple bank cards to your v-bank app and complete several transactions on different bank cards easily when it comes to funding your account.
You can decide to save on your V-bank and earn interest on your savings.
This bank offers a debit card that allows customers to make easy payments from their accounts.
PROS
V-bank allows you to have seamless, fast, and convenient bank transactions from the comfort of your home.
You can add multiple cards from different banks to your V-bank account.
It pays you interest on all your savings for the period your funds remain in your account.
CONS
It is not every ATM that offers cardless transactions hence, you might have to use an MMO agent to do cash withdrawals.
How to get the V-bank app
You can download and install its app via your mobile Play Store or App Store on your android or iPhone respectively. With your BVN and phone number, you can create your V-bank account on your phone within 5 minutes. Follow the prompts and complete the account opening process.
V-bank is infused with some products that will make your mobile banking experience worthwhile and convenient. They include:
USSD BANKING: with the use of the V-bank USSD code, you can send funds, make payments, and access several other financial services by dialling *5037# on your mobile device and following up with the prompts to complete your transactions.
LOANS: the platform also provides loans to help you take care of your needs when you do not have enough funds
WHATSAPP BANKING: this is the use of social media to enable customers to have access to an array of financial services on the platform. All you have to do is add them on WhatsApp via 08091111463, say hi and follow the instructions to do your transaction.
DEBIT CARD: This card is the verified debit card issued by the bank to facilitate payment solutions and to allow customers to make payments easily from their accounts.
Features of the V-bank app
Multiple Cards: the add card feature allows you to add bank cards from different providers to your account to allow direct debit. This enables you to carry out several transactions conveniently.
Advance Budgeting: this feature enables you to monitor your funds and spending. You can set advanced limits on your expenses to ensure you do not spend beyond budget. Advance budgeting allows you to make a detailed plan on how to control your daily, weekly, and monthly expenses to meet your short and long-term financial goals.
Recurring Transactions: the recurring transaction is also a feature on the V-bank app where you schedule payments made regularly and the app completes the transactions on the set date. This can be bills payment, salaries, or other fund transfers that occur on specific dates.
Multiple beneficiaries transactions: this is the platform's feature where a single click can help to complete multiple transactions. Simply put, with this feature you can send money to several beneficiaries/recipients with just a single transaction entry. This is mostly suitable for salary payments where you pay staff with just a single transaction without going through the stress of making the transactions over and over again.
Proximity pay: this is a close-range transactional service where users can pay or receive funds from a close recipient. It is important to note that both users must have the proximity payment feature open on both their mobiles as well as the NFC feature which must be turned on before transactions can be initiated. The proximity pay allows you to transfer or receive money from multiple or single nearby recipients at the same time. All you need to do is turn on the NFC feature on your phone and open the proximity pay to begin the process.
Quick Menu: instead of scrolling through your app field and wasting your time every single time you want to pay or make any transaction on the app, you can easily add your most frequently used functions into the quick menu tab. This makes it very easy and convenient to access. You can pay for your goods and services as swiftly as possible on the app with the help of this quick menu feature.
The QR Code: this feature allows you to send and receive money with the aid of a unique QR code that you generate on the app. Bills are paid, and transfers are easily completed using the generated QR Code.
Bills payments: this is a feature that enables users to pay several bills on the application. All you have to do is select what you want to pay for, which can be electricity, mobile top-ups, school fees, cable TV, and others. You then enter the amount to be paid and complete the transaction.
Veelage: This is a reward-based system that allows you to earn as you save as a member of the community. You can also earn up to 2 million naira by sharing your referral code with your network.
V-bank which is also known as V is an online product of VFD Microfinance Bank that operates as one of the digital banks in Nigeria.
You do not have to join long queues, complete paperwork, and most importantly you do not need to pay any unnecessary bank charges.
The bank also allows you to save, earn interest and have access to several financial services on the application.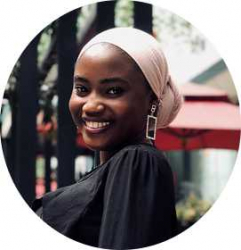 Latest posts by Halimah Idris
(see all)
You are the first in our research hence, we rallies around doing rigorous checks, testing and analysis to help you make a good decision on products and services. Meanwhile, items providers' final views are superior to ours.