Umba is a digital banking solution that makes it easier to save and get money.
Everybody wants money and nobody will say no to it. The problem is how stressful it is to actually get it.

Umba is a digital financial platform that eliminates the stress associated with accessing funds and other financial services. It allows these services to come to you in your homes.

The stress of having to get so much paperwork done, join long queues, or walk or drive long distances to get access to financial services are all removed. With a single click, you can apply for loans, get loans, cash backs, send funds, pay bills,  transfer, deposit, as well as get access to lots of other financial services. 
Umba is an online banking platform that provides all your financial needs to you via your mobile. You can get loans, credit facilities, spend, pay bills, and a lot more on Umba.
It allows you to make unlimited free bank transfers and charges zero fees for them.
With Umba, you can get up to 5% cash back on every bill you pay.
PROS
Umba is your one-stop shop for financial groceries – spend, earn, get loans, save and enjoy low-interest rates on the loans you borrow.
The spend and earn feature allows you to earn money while spending it. You can get up to 5% of what you spent when paying bills.
It is easy to get access to loans and credit facilities on Umba. The platform also makes it easier to pay back so it does not feel like you are wallowing in debts.
Security is also a top priority on Umba. Your funds and account are properly secured and protected
from cyber attacks and crimes.
CONS
Access to a loan requires a credit check on your account which might not be suitable if you have a poor record
Download the app from your mobile Appstore or Playstore depending on whether you use an Apple device or an Android phone.
Install the app on your mobile and upload other necessary requirements to create your account. It is important to note that you must register the account with an active phone number and email address.
It allows users to conveniently apply for and repay loans from their phones or computer.
The neobank currently operates in Kenya and Nigeria, they are doing an excellent job in ensuring you have access to lending, deposits, instant free transfers, cash backs, bill payments solutions, etc.
Umba aids in driving down costs of banking for you as a customer as well as democratizes access to all services in their app.
The interest rate on its savings is between 1-15% per even as a first-time user, you are given a one per cent interest.
The platform offers a loan-repayment duration ranging from one month. 
The loan amount usually ranges between ₦1,115 to ₦89,000. However, your loan limit (credit worth) increases and you can borrow more as you repay loans regularly as scheduled. You can apply for a loan and get it as swiftly as possible as long as you meet all the loan requirements.
It is important to note that paying back your loans when due regularly increases your chances of getting access to larger amounts. You have a repayment period of up to 62 days and can pay back in four instalments. This makes it easier to spread the loan and pay it back conveniently.
Instant Personal Loans: Nigerians on Umba can access loans on the app. All you have to do is ensure you have the following requirements;
A valid and active phone number where a verification code will be sent to you.
A National Identity card issued by the government (NIN) will serve as proof of your age and name.
Your BVN details to ascertain your banking details and to make sure you do not have a bad history with other loan apps.
Payment of bills: You can also add your utility accounts to your account and pay them directly. You can pay for electricity, Dstv, data, airtime, etc. on your Umba app.
Fund transfers: with your app, you can send funds to your friends and family via this mobile app once they open an account with Umba.
Umba is a digital bank aiming to break the barriers to accessing loans and other financial services. Ensuring that it provides excellent support for all your financial needs right in your homes.
It provides customers with lots of services in a simple and easy-to-navigate app.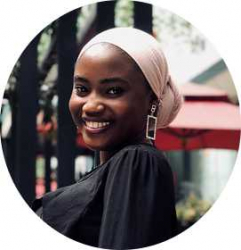 Latest posts by Halimah Idris
(see all)
You are the first in our research hence, we rallies around doing rigorous checks, testing and analysis to help you make a good decision on products and services. Meanwhile, items providers' final views are superior to ours.