I-invest is your destination if you are all about flexibility in investments, especially with assets like treasury bills, Eurobonds and alike.
I-invest connects you with a large array of investment products and facilitates the purchase of securities and other financial instruments among clients without the aid of a broker.
With I-invest, you can conveniently buy and trade financial instruments from the comforts of your home. No joining of long queues at banks or sorting out excess paperwork.
The platform also offers necessary investment information to guide you toward achieving your financial goals and objectives.
I-invest  is an online investment, trading and savings platform that aids the financial growth of its clients.
I-invest consists of several financial instruments such as Treasury bills, commercial paper, etc.
It is necessary to upload the required documents such as your evidence of address, and a government-issued ID card.
The platform does not require the use of a broker for transactions to be completed.
The minimum holding period on I-invest is 30 days.
The minimum amount to invest in Treasury Bills is ₦10,000.
PROS
I-invest allows investors to grow financially by investing in a wide range of financial instruments.
It is easy and convenient to use.
There is no need for paperwork, or long bank queues and does not require a broker.
It is less time-consuming.
Regardless of which bank the client uses, the I-investng products are still accessible to them.
You can start saving with as little as ₦100
CONS
You can only liquidate your investment after a minimum holding period of 30 days
Most of the products require adequate knowledge about them hence, investing without proper analysis might result in unwanted situations.
For fixed deposit accounts, the minimum you can deposit is ₦100, 000.
Withdrawals on its savings product are limited to once in every quarter
PRODUCTS AVAILABLE ON I-INVESTNG
TREASURY BILLS: these are short-term debt instruments issued by the Federal Government to the public to allow investors to invest and earn interests. They are tax-free fixed-income investment options guaranteed by the Federal Government.
However, in the event that the Government does not pay, the Central Bank of the country settles the investors. You can only terminate your treasury bills investment after a holding period of 30 days.
Termination before maturity will attract a 30% penalty of the interest earned on your investment. The principal amount will not be charged.
EUROBONDS: this is another fixed-income security (debt instrument) available on I-Invest. These Securities are denominated in a different currency from the local currency of the country where you purchased them.
In Nigeria, you would need to fund your I-invest wallet with dollars to be able to purchase the Eurobonds. It is also important to note that Eurobonds are held till maturity, you can not terminate them at an early period.
EQUITIES: these are shares or stocks issued to investors by a company. It does not have a fixed rate of interest. Shares listed on the I-invest equity trade reflects the prices displayed on the Nigerian Stock Exchange. You can also decide to sell your equity (shares) anytime, however, a 3 days waiting period is required before you receive value.
FIXED DEPOSIT: this involves funding your I-invest account with a fixed amount of money for a fixed period and for a fixed rate of interest. The minimum to invest in a fixed deposit account on your I-Invest is ₦100, 000.
COMMERCIAL PAPERS: these are short term debt instruments issued by corporate organizations to get funds from the public. Funds are provided by investors who are interested in purchasing it on a discounted basis. Also, the interest earned is exempted from tax charges.
I-INVEST SAVINGS: the savings plan on I-invest offers clients a high-interest savings plan where they can save daily, weekly and monthly or a one-off lump sum. The minimum savings on this plan is ₦100. All withdrawal is set to the first of every Quarter to ensure good financial discipline among the users. 
I-INVEST provides you with an array of investment options in a one-stop financial store/platform.
The investment products on I-Invest include treasury bills, equities, Eurobonds, and commercial papers.
You do not incur any additional charges on I-invest.
I-invest enables you to pay for bills such as utility bills, electricity, purchase airtime and other value-added services.
With as little as ₦100, you can begin your savings journey on I-Invest.
I-invest provides an array of investment products that enable its clients to match products to their investment needs, enabling you to grow your wealth in style.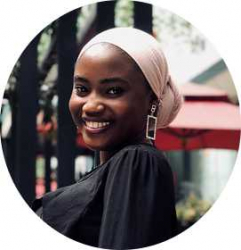 Latest posts by Halimah Idris
(see all)
You are the first in our research hence, we rallies around doing rigorous checks, testing and analysis to help you make a good decision on products and services. Meanwhile, items providers' final views are superior to ours.