Chaka provides a platform that enables you to conveniently save your money in dollars as well as invest in stocks, both local and foreign.
Chaka is an online trading platform where you get to trade and invest in stocks. It allows you to trade and invest in different foreign countries and in stocks like Netflix, Alibaba, Tesla, Google, and more. Your investment journey can begin with as little as 1,000 Nigerian Naira.

Chaka is a safe and secure platform that is owned by Chaka Technology Limited and regulated by the Securities and Exchange Commission alongside Nigeria's Central Securities Clearing System (CSCS).
CHAKA STOCKS
This feature enables you to sell, buy and hold stocks from over 30 countries internationally. You also get access to over 4000 stocks listed on the Nigerian Stock Exchange and the New York Stock Exchange to trade in. With good risk management skills, you can earn a good amount of cash just by trading, or holding any of these stocks listed on the platform.
SMART INVEST
This is another feature of the app that allows you to invest your money by leaving it to be managed by the platform. The digital properties of the platform recommend investment opportunities that suit your risk level and meet your investment goals and objectives.
PROS
Chaka is one of the most trusted online investment platforms that is well regulated by the Securities Exchange Commission.
It is safe and secure.
It is convenient to use.
It does not require you to pay before you can register.
You can track and monitor your returns on your portfolio.
There is a smart investment feature that allows experts to recommend good investment opportunities to you.
You can start earning money just by trading in the market.
CONS
It takes a long period of time to get your funds into your account.
The market is not always certain and without adequate risk management, you could lose your funds to the fluctuating market.
You are charged by NSE and other market regulators.
All you have to do is go to your Google Playstore or AppStore to get the application. You can also register directly from their website.
Once you have the Chaka app, you will answer some basic questions about yourself to get registered. You will also be required to fill in your BVN details, address documents, and means of National identification. After this, you will be assigned a Central Securities Clearing System (CSCS) number to get started.
The registration could take about 5 minutes and it is important to know that you are not charged any fees for registering on the platform. The only time you are charged is in the event of trading transactions as well as mandatory fees placed by Nigeria and other market regulators.
These are the basic steps to follow after you make the decision to invest via the Chaka platform:
Create an account by registering.
Put money into your wallet- You can fund your global or local wallet.
Follow up the instructions to invest in any listed stock(s) you want.
It is usually advisable to use the Smart Invest feature so your funds can be adequately managed by experts who recommend an investment portfolio that suit your investment goals and objectives.
A minimum investment amount of 1000 Naira.
Investment Tracking: You can invest and monitor your investment records and also track your returns on all your investment.
You can decide to either trade or hold stocks (or do both) for as long as you want.
The platform requires some personal documentation such as Means of Identification (Government-issued), Utility bill, Phone number, verified mail address, BVN, other Bank account information, digital photo, etc. for your complete documentation on the platform.
You can make transactions on the app using Bank transfers, MasterCards, or Verve cards issued by Nigerian banks.
You can withdraw cash from the platform but this takes 12 hours after the request has been made. To collect or withdraw funds from stocks sold takes 72 hours(3 days) because it takes about two days to settle cash for the shares sold by the Stock Exchange and another 24 hours to process the transactions.
Chaka accounts have double wallets that are termed the global and local wallets. You can trade international stocks using the global wallet and the dividends are also paid into it while the local wallet is for local trading and transactions.
Another feature of Chaka is the possibility to send a stock gift to anyone. You can give someone stock gifts from Chaka.
Chaka brings stock investment opportunities closer to you, both local and international.
It allows every individual the opportunity to be open to so many comprehensive securities from which they can choose to meet their investment goals and objectives.
You can also decide whether you want to invest in local or global stocks and with several Chaka features available, investment is made simple.
This trading and investment platform has ensured that so many Nigerians earn good income through digital means while creating wealth for themselves over a long period of time.
You can also earn money by referring someone. When the person makes a $10 (or more) trade, you earn adequate rewards.
However, the person referred must have signed up, registered, and become a part of the Chaka family and have made up to $10 or more trade transactions before you are eligible to earn from the referral. The more people you refer, the more your earn great returns.
Conclusively, Chaka is not only a digital investment platform for individuals as businesses can also benefit from Chaka.
The platform provides financial freedom and solutions to enable people to invest and trade in the Nigerian and American stock exchange markets.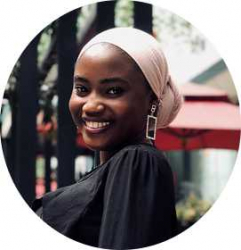 Latest posts by Halimah Idris
(see all)
You are the first in our research hence, we rallies around doing rigorous checks, testing and analysis to help you make a good decision on products and services. Meanwhile, items providers' final views are superior to ours.