Hervest utilises a set of Gender Lens Investment strategies to include women in several investment opportunities.
This platform helps small and medium-scale female entrepreneurs by providing growth opportunities in certain crops, livestock, and grains as well as some online services.

As a woman, irrespective of where you come from or who you are, It ensures savings and credit facilities are made available to you once you subscribe to them.

To put this in plain terms, this digital fin-tech platform offers an opportunity to invest in female-led businesses, get returns on this investment, achieve specified savings goals, and give these women financial knowledge, understanding, and capabilities they might not have had access to. 
Hervest offers the following main services to its client :
SAVINGS: This FinTech platform provides an opportunity to save for future purposes. You can decide to save for a long/short period of time but you will achieve your savings goal with Hervest. It allows you to save towards several savings plans- as many as you want.
INVESTMENT: Another service offered is the 'Impact Investment'. This enables you to invest in women-led small-scale businesses, especially those targeted at agriculture. You can invest and earn returns on your investment, this is like making passive income without stressing yourself.
TRANSFER CASH: This FinTech platform also allows clients to transfer funds to a third-party account. Thus, it eradicates the need to hold cash around and enables you to transfer easily
FINANCIAL EDUCATION: Hervest has inspiring women financial experts who offer financial enlightenment and literacy to their clients. This widens their horizons on proper handling and finance management and in turn aids them to achieve great financial returns.
CREDIT FOR FEMALE FARMERS (small scale): Small-scale women entrepreneurs who are in need of funds or other tools to help the growth of their businesses are provided with credit facilities by the Hervest investors. Once they make returns, the investors also earn good returns on this investment. So, it is always a win-win situation.
PROS
Hervest provides financial inclusion for women who lack access to several financial opportunities such as credits, financial advice, and other financial tools and instruments to ensure women are included in
financial success stories.
It provides free coaching, mentoring, guidance, and others to its clients.
Hervest is free to use, with no maintenance fee, no SMS charges, and no administration fees and investment incurs low processing charges.
Hervest provides credit facilities for women who are into small-scale businesses.
CONS
Once your payment is locked you cannot have access to it even during emergencies until it reaches the set maturity date.
It will take you a few minutes to complete the registration process. Get the app from your PlayStore or AppStore depending on whether you use an Android mobile or an Apple mobile.
After which you will be required to fill in some details like your email address, your name, active phone number, and a password to create an account. An OTP will be sent to your registered mail and phone number to complete the process.
On the Dashboard, you will see Tabs that lead you to the Home, Plans, Purse, Transaction, and Portfolio pages of the App.
On the Home page, Your Hervest balance can be seen on the top middle screen. You can choose the type of Savings you want, personal or cliq savings. It shows a tab to invest in female entrepreneurs where you can get great returns on your investment. It also offers a tab for Rewards that allow you to earn by inviting friends to sign up.
The Plan page shows your active plans-Savings and investments and the balance for each.
The Purse page shows your total account balance (from Savings and Investment), Update your BVN and all the transactions made on the application.
The Transaction page also shows all the transactions made on the app but the transaction page has it specified to each of its categories.
The Portfolio shows your complete plans, the purse, savings, and investment with its current returns.
The top left page of your dashboard has a notification tab where you can check and update your bank details, edit your profile, refer, contact customer service, and more.
Hervest provides financial inclusion for women by following a set strategic approach-Gender Lens Investment (GLI)
It offers great returns to its cooperative clients while solidifying the financial strength of women entrepreneurs through access to funds, training, and markets
All the funds at Hervest are held and managed by FBNtrustees limited on behalf of Hervest. This, the FBNQuest is regulated by the Securities and Exchange Commission (SEC) ensuring the security of your investment and savings
Women entrepreneur clients are offered free updated advice, mentoring, and guidance through the Hervest financial instruments.
The platform also offers its clients free mentoring and enlightenment on financial proficiency
Hervest is a woman-intensive FinTech platform which encourages women to take control of their financial lives.
This platform also aids the growth of the economy by investing in small-scale women-led businesses and providing great returns for the investors.
The Gender Lens Investment strategies are utilized to strengthen the capability of women in the rural and urban areas to make decisions about investments especially when it comes to women small-scale business owners while at the same time aiding these small-scale women to have access to credits, capital and the market.
It includes women in finance and pushes them to be disciplined in achieving financial freedom as well as a coordinated savings goal and objectives.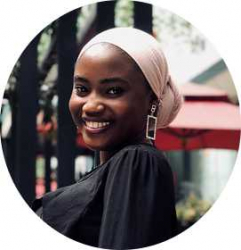 Latest posts by Halimah Idris
(see all)
You are the first in our research hence, we rallies around doing rigorous checks, testing and analysis to help you make a good decision on products and services. Meanwhile, items providers' final views are superior to ours.