Bamboo is an investment platform that gives you the opportunity to build wealth through several investment products.
Over the years, people have been finding it difficult to save money or invest their funds mostly due to the inability to keep up with it.

Saving funds can be quite tasking as most do not know the adequate platform that exposes them to opportunities that could make it easier for them.

Bamboo is one of the leading digital investment platforms that ensure great discipline when it comes to investing in the global markets.
Bamboo is an online trading and investment platform with over 3000 stocks to invest in. These securities include the ones listed on the Nigerian Stock Exchange as well as the U.S stock market.
You can begin your stock trading journey with as little as $10. It is also important to know that the more you invest, the more returns or risk you should expect. You should always seek the advice of experts before investing.
Prior to becoming a full-time Bamboo user, you are required to provide some documents that include a digital copy of your Government-issued identification card, a utility bill, phone number, and bank account information. All of these will help ensure the app has your correct details, these are requirements for your Bamboo account.
PROS
Bamboo is a digital investment app that can help you to build and create a wealth of your own.
It offers several investment opportunities for individuals.
It is very easy to get and convenient to navigate through.
In addition to investment and trading, you can also monitor and track your returns on investment.
Bamboo helps you in reaching your financial breakthrough through serious dedication and investment discipline.
CONS
Bamboo allows a minimum deposit of $10 which might be too much for some people.
Bamboo does not have experts on the application who will help to handle your investment decisions.
You need to take moderate risk management while trading.
HOW TO GET THE BAMBOO APP
It is easy to have it installed on your phone and ready for use.
All you need to do is go to your phone's Playstore or AppStore for Android and Apple mobile devices respectively. Search for Bamboo, download, install it and create your account.
You will be required to fill in some necessary and basic information including your bank verification number. It takes less than 5 minutes to complete registration and you can have access to thousands of securities to invest in.
You can decide to invest by funding your naira or dollar account. After this, you are eligible to purchase or sell shares.
You can decide not to trade but hold on to your shares or securities for as long as you like. Thereby, it serves as a long-term investment if you hold it for a long period.
As a Bamboo user, you can decide to pay or make transactions using your MasterCard, make a bank transfer, or use your Nigerian-issued Verve cards.
Another great feature is you can basically monitor and track your returns on investment through the Bamboo application.
Once you place a withdrawal request on the platform, it takes about 1-3 business days to get your request settled and processed to your account.
Every account in Bamboo is held with a U.S brokerage firm. This firm ensures the accounts are properly insured for up to $500,000.
You can gift someone else a stock from Bamboo even if the person has not purchased stocks of their own.
The Bamboo platform is one of the well-known in terms of digital companies that can allow you to invest in stocks, both in Nigeria and globally.
However, it requires a lot of practice to trade on the platform because stocks, crypto, shares, and other related investment products sometimes have a high level of fluctuations which might cause a loss of funds but with proper information on your investment and proper risk management, you can achieve all your investment and trading goals.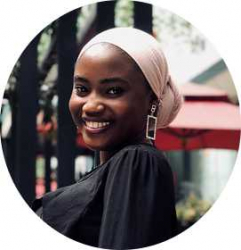 Latest posts by Halimah Idris
(see all)
You are the first in our research hence, we rallies around doing rigorous checks, testing and analysis to help you make a good decision on products and services. Meanwhile, items providers' final views are superior to ours.