Risevest is an online platform that allows you to save your money in US dollars and grow your wealth through dollar-denominated investments.
Saving your money in US dollars is a good idea you should consider now, this will keep your funds safe from devaluation as seen with the Nigerian naira over the last years.

Ponzi and scam schemes are gradually becoming the order of the day. This makes individuals wary about an investment of any type and it has affected the financial growth of individuals over the years.

This Nigerian-dollar investment financial platform enables individuals to earn passive income by investing in several ranges of financial assets which allow their money to work for them.
Once you complete your Risevest account sign-up, you can select any dollar-denominated investment plan you are interested in.
This can be the asset class that includes US real estate, Eurobonds, and US stocks and you can decide to have a mixture of them.
Then, you can proceed to set a duration period for the investment, this can be 3, 6, or 12 months.
You can now find your plans by choosing an automatic renewal payment or one-time payment using a bank account or naira card. Once you have completed the investment process, especially with the low-risk real estate products, sit back and watch as your wealth grows.
PROS
Risevest provides investment opportunities for Nigerians to grow wealth by investing in foreign investment opportunities such as US stocks, bonds, securities, real estate, etc.
There exist a club that provides up-to-date guidelines, information, and management on investment opportunities.
It allows you to achieve your financial goals by investing your funds in high-quality financial assets.
The platform allows you to choose from any of its investment plans/products depending on the risk level you can take.
It is safe, secure, and legit as well as uses bank-level encryption to secure your investments.
Your fixed income and real estate investment plans are tied to low and medium levels of risk.
On Risevest, you can invest towards a goal, be it vacation, retirement, studies, health, etc.
It allows you to reach your investment goals and objectives by investing your funds into dollar investment plans for you.
CONS
It takes a longer period before withdrawals can be made because your money has to be
converted, processed before it settles in your account.
It charges too many management fees on investments – it charges 1.4% – 1.5% on naira deposits, and 2.9-3.9% on dollar deposits.
The market is susceptible to uncontrollable market forces. This might lead to loss of funds even though there are financial experts.
The stocks are tied to a high level of risk.
Users cannot trade by themselves on the platform.
Whether you are a beginner or an expert in investment, this investment provider gives you the opportunity to invest in global dollar assets.
All you have to do is go to the Risevest website to sign up or you can visit your PlayStore or AppStore depending on whether you use an Android or iOS mobile device.
Download and install the app on your mobile phone and proceed to register or sign in.
You will be required to fill in your details as well as your bank details to verify your identity. You will also need to upload a soft copy of some documents such as a government-issued ID, utility bill, etc.
The following are the key features of Risevest;
Rise Vest is a digital platform that allows you to invest in dollar-denominated assets such as US stocks, Eurobonds, etc to make adequate dollar returns on investment.
The minimum investment amount is about $10.
Your account can be funded continuously or one time.
Risevest has an investment club that houses investors, beginners, financial experts, and individuals who are willing to give newbies great financial advice and guide them on good investment plans.
The returns on investment are 13-15% per anum.
All the stock investment products on Risevest are insured by the United States Securities Investment Protection Corporation (SIPC) for up to $500,000.
Risevest is one of the digital investment platforms helping individuals reach their investment goals and objectives by ensuring that they use their financial experts who study the market to manage their investors' accounts and grow wealth for them through the App.
It has a suite of features that makes them flexible for beginners and people who have no time to trade by themselves. It invests your funds in dollar-denominated financial assets that allow you to make dollar profits and returns on your invested naira.
Saving your money in US dollars is a better idea than doing that for a long time in naira as it keeps your funds secured from the depreciation associated with the Nigerian currency.
Nevertheless, having shared savings accounts could be helpful as it might be much easier and faster to withdraw from a naira-denominated savings account in a time of emergency.
And when you decide to start putting some money aside for USD savings, Risevest should be one of those platforms you should consider for its range of features geared towards making savings and investments flexible for everyone.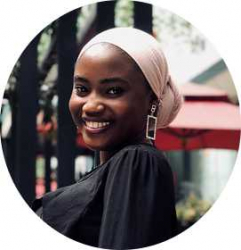 Latest posts by Halimah Idris
(see all)
You are the first in our research hence, we rallies around doing rigorous checks, testing and analysis to help you make a good decision on products and services. Meanwhile, items providers' final views are superior to ours.