Pocket App is focused on enabling you to make easy payments and other value-added service transactions.
Every day, you need access to a lot of services like airtime recharges, meals and exchanging money with your friends and relatives.

With the Pocket App, financial services are easily accessible through its interface that has services like money transfer, airtime and data recharges and if you need to buy some items, the shopping feature connects you to merchants in varying categories.
Pocket app(Abeg) is an online financial technology platform that allows the safety of your money with "escrow" through its shopping service and ensures you get what you paid for.
You can easily transfer or send money with a pocket ID or your phone number.
With the PocketPro feature, you can create a buy/sell stand on the pocket App to begin your trade.
The virtual cards are said to be a work in progress that will be released very soon to promote online payments in a convenient method.
PROS
Easy and convenient financial transactions.
You can send money anonymously if you wish to.
It is a one-stop shop to buy, sell, pay, and get paid.
The Pocket App also enables you to track all your spending on the app.
CONS
The platform only works in Nigeria, you can not make transactions outside Nigeria.
Pocket App does not have a physical card yet.
HOW TO GET THE POCKET APP
You can download the app from your Appstore or Google playStore. Install it on your phone and fill in the required details to complete registration and create your account.
You can buy, and sell products and services, and make and receive payments on the app.
PocketApp has a feature where you can conveniently purchase airtime, data subscriptions, TV subscriptions, and more on the application.
Escrow is a feature on the PocketApp platform that holds payments until buyers and sellers have fulfilled their required objectives.
The Pocket Pro allows you to open a digital shop on the app where you can sell your products and promote your business.
Once you download the app, you will be directed to your dashboard.
The dashboard consists of the Home page, the Search page, the Request/Send page, and the Profile page.
HOME PAGE
This page shows you two virtual pocket ID cards. One is used to transfer funds to other pockets, it shows your pocket balance and you can link your local bank account.
The other digital card shows how you can make money from the app. Once you tap on it, it takes you to a page where you can select your profession, and create an online shop. The platform connects you to customers, once someone searches for your services.
This page also allows you to make transfers, pay bills, create groups, buy products and sell them as well as allows you to link your Piggyvest account to your Pocket App. You can sync your contacts from your phone contacts, view and follow markets to see products you like, view your saved items, and visit shops.
Just below this is the tabs to learn more about the Pocket app, add a picture of yourself to your page, add a bio, verify your identity, and add cash to your pocket. You can also view markets, and see products with their prices on the Home page.
SEARCH PAGE
This page allows you to search for other pocket app users, the top pros on the app, products, users, and shops. You can also recommend the pocket app to your friends and family by tapping on the "Recommend Pocket App" button.
REQUEST/SEND
This page allows users to request or send funds from other pocket app users. All you need to do is enter the amount you want to request or send, type in what the fund is meant for, and click on the required function. You can view the total funds sent and received by clicking on the top right button.
PROFILE PAGE
On this page, you can view the Settings, Orders, Purchases, Sell, Inbox, and giveaway tabs.
Settings: Under the Contact and People settings; You can manage your beneficiaries which allows you to add or remove a beneficiary. View people you follow. Under Finance and Rewards settings; You can add your bank account(s) where people can also send you money directly. You can hide your cash balance as well as enable the interest bonus feature. This feature allows you to receive daily bonus payments on your Pocket app cash by 6 pm if you sent money that day.
Under the Business and Commerce settings; You can add a new shop as well as manage your professional details. The Security and Support settings allow you to enable/disable the app notifications, change your pin, contact customer service for help and support on the app, and learn more about the Pocket App. You can also click the log-out button if wish to leave the app.
Orders: this allows pocket app users to view all their orders made on the app. You can view the orders and payments from customers on the Pocket App.
My Purchase: this shows the purchases made from other professionals on the app.
Sell: this enables you to open an online shop to sell and promote your business on the app.
Inbox: shows all the messages received from other users on the app.
Giveaway: you can start a giveaway and make random people delighted with cash.
The profile page also allows users to create a group where they can manage their funds as a group. This is between the range of 2-100 people. You can select any of the following groups:
For boo and I (maximum of two members)
For My friends and I (maximum of 30 people)
For my family
For Ajo and contributions
For my team and I
Other features on the profile page of your pocket App include Lists, Badges, and Tickets. In addition, you can link your social media pages to your Pocket App.
Pocket App is a Nigerian online financial platform making financial services easily accessible and available to users.
With the platform, you can seamlessly perform a series of financial transactions, pay bills, giveaways, and purchases, and sell goods and services to the right customers while promoting your business.
PocketApp once known as Abeg is in partnership with VFD bank for your fund's safety and VFD is licensed by the Security and Exchange Commission.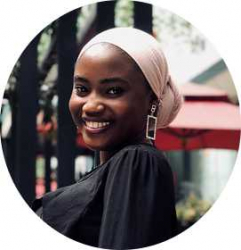 Latest posts by Halimah Idris
(see all)
You are the first in our research hence, we rallies around doing rigorous checks, testing and analysis to help you make a good decision on products and services. Meanwhile, items providers' final views are superior to ours.