Gomoney brings financial services to you right at your fingertips with the various features that enable users to perform actions such as sending money, tracking expenses, receiving funds, etc.
Money is a very important means of transaction and over time, it is obvious that we don't need to carry large amounts of it in cash around.

So what happens if you want to urgently make use of cash to pay for bills, purchase an item, buy airtime or pay for your meals? This is where Gomoney comes in. With the Gomoney app, you can send funds, receive payments, request money, buy airtime, pay bills, and of course pay for your meals at any time. 
Gomoney possesses tracking features that allow you to monitor and keep track of all your spending and expenditures.
You can send funds, receive money, pay bills and purchase airtime on Gomoney.
You can as well generate a payment link for easy transfers of funds to others.
PROS
Gomoney is a one-stop shop for financial transactions. You can send and receive money from anybody, you can request payments as well as send payment reminders to people owing you.
You can pay bills and make your data purchase easily on the app.
You can also create a split group on your app, categorize it and invite your friends. This allows you and the invitees to split bills such as transport bills, food, movies, etc.
It sends you instantly and up-to-date notifications to keep track of your spending.
Gomoney also offers a virtual debit card to help facilitate quick online transactions on your app.
CONS
Gomoney does not lend or give out loans. This means loan services are not yet available on the app.
You can only create one Gomoney account on a device.


Download the application from the App Store or Play Store for iOS and Android-based devices respectively.
Install the app and follow the prompts by entering the required details to create a Gomoney account.
The app is available to anyone who is at least 16 years of age however if parents open an account for their kids, the parents must manage and regulate the accounts for their kids.
Reports: Gomoney provides you with a report feature. This shows you the summaries of how you spent your funds, how much you received, the dates and time of transactions, and what you spent money on. You can always be up to date with the reports feature on the app.
Tracking: This feature allows you to schedule payments and bill payments as well as keep track of your transactions. You can schedule bill payments so that they are paid at regular intervals on the set date. You don't have to always stress yourself to make the transactions every time. All you have to do is track and monitor your transactions to ascertain that payments are made when due.
Payment pages: Once you send a payment link to request payment from someone, The payment page is displayed to them. This page allows the receiver of the request to make the complete or half-payment of your request. Once they click the link, they can follow prompts to enter how much they wish to send, provide the required details and complete the transaction. A transaction fee of 1.5% of the total amount being sent is charged when you use the payment page to request payments.
Categories: This feature allows you to categorize every transaction made on the app. You can organize your spending into different sections to know how much you spend on each aspect of your life. You can make categories for food, transport, investment, dates, health, education, etc. conveniently on your Gomoney app.
Recurring payments: As it was mentioned above, you can schedule payments to be made at regular intervals. This feature allows you to set up future payments and schedule them at any frequency you want. It can be weekly, monthly, or even on yearly basis. This feature is mostly suitable for instalment payment plans.
Gomoney is one of the digital mobile platforms that allows you to stay on track with your finances, move money, and pay bills from your mobile device.
This platform comes with features that make it possible to perform monetary services from your homes which might have taken you to banks with no paperwork and in less time and energy.
However, users can not apply for loans because loan services are not available yet on the app. in addition, you must be at least 16 years of age to open a Gomoney account.
All funds on the Gomoney are insured under the Nigerian Deposit Insurance Corporation.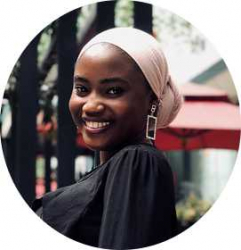 Latest posts by Halimah Idris
(see all)
You are the first in our research hence, we rallies around doing rigorous checks, testing and analysis to help you make a good decision on products and services. Meanwhile, items providers' final views are superior to ours.