You can send money from Nigeria to South Africa and amazingly, it takes minutes for the recipient to get the funds through different channels.
You may have families and friends in South Africa that you need to send some money or your employer is in Nigeria and needs to pay your salary.

This should not be an issue if you know the various ways to send or receive money between these countries. The platforms in this guide can be used to send money from Nigeria to South Africa:
How to send money from Nigeria to South Africa
Below are the platforms and apps to send money from Nigeria to South Africa:
Click to Scroll to Section
This is another method to send money from Nigeria to South Africa. With the Chippercash app, sending or fund transfers to South Africa is a piece of cake. This is even better if the recipient also has a Chippercash account. To send money to someone in South Africa. You have to follow these steps;
Go to your dashboard and click Send
Search for the receiver's Chippertag or username. Ensure that you have the correct username with the correct country flag icon(which shows the receiver's country on the app)
Input the amount you want to transfer
Write a description of the funds you want to send for reference purposes
Confirm the receivers currency (in this case, ensure the flag icon is South African)
Then follow the prompts to complete the transactions and the funds will be transferred immediately.
If the receiver does not have a Chippercash account, they will receive an invite to create an account after which the money will be remitted to their Chippercash account as long as they created the account with the same number you sent the funds to.
Chippercash is a secured and reliable method of sending money from Nigeria to South Africa and with their virtual cards, you can also shop online and make fast online payments in South Africa (and other countries).
This is a safe, reliable, and convenient method to transfer funds from Nigeria to South Africa with few online clicks.
You can decide to send your funds through the online app or visit a nearby Western Union agent location or branch to get the money to the recipient.
For online transactions, register and log into your Western Union account, input the recipient's country and the amount you want to send, select a payout method, and input the recipient's details such as bank account number, name, code, etc.(if you are sending directly to their bank), pay for the transfer with your Nigerian debit card and follow prompts to complete transactions.
You will be sent a receipt with a tracking number alongside a confirmation mail to track the transfer. This tracking number is called MTCN which should only be shared with the recipient.
If you decide to send the funds via a Western Union agent, all you need to do is visit a nearby Western Union location, provide them with your valid means of identification, and provide the agent with your recipient's details such as their full name, the country, the amount you want to transfer and the payout method then pay for the transfer with cash and you will be given a receipt and an MTCN to track the transaction.
It is also important to provide valid details of the recipients as they will be asked to show a valid means of identification and the name must correspond with the one you have provided to the Western Union agents.
Transfy is another provider and quick method to send funds to your loved ones (or the recipients) in South Africa.
This platform allows you to send funds online via your mobile device or computer. All you have to do is visit its website or download the Transfy app, sign up and provide the necessary documents to complete your registration process and start sending money easily to your friends and relatives in South Africa.
You can decide to transfer funds using either a bank transfer method or a mobile money transfer on the Transfy app once you have enough funds in your Transfy wallet. To send money you can follow the steps below;
Sign into the app to create your account
Complete the KYC process and fund the respective receiving currency wallet
Select the country you want to send to
Enter the amount you want to transfer, and select the method of receiving.
After this, the exchange rates and fees charged will be shown to you
Input the recipient's details (this is dependent on the method of transfer you chose)
Pay for your transfer and complete the transaction.
This is an online money transfer service provider that allows users to make safe and easy transfers to South Africa.
Paypal is a globally recognised remittance platform and in South Africa, residents can receive funds from many countries as well as send.
Sending money from Nigeria to South Africa only requires you to create your account with your email address and link a debit card that supports deposits or withdrawals on international platforms.
Once you have a card successfully connected, remitting from Nigeria becomes easy as you will only need to know the Paypal email address of the recipient in South Africa.
Using Paypal, funds are usually in USD hence, you should have a debit card from one of the dollar card providers in hand to use on this platform.
With many options when it comes to remitting from Nigeria to South Africa, sending money to your loved ones should be a stress-free experience using one of the platforms on this guide.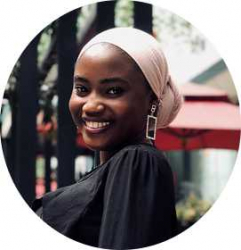 Latest posts by Halimah Idris
(see all)
You are the first in our research hence, we rallies around doing rigorous checks, testing and analysis to help you make a good decision on products and services. Meanwhile, items providers' final views are superior to ours.